Administrative
Staff member
Administrative
Joined

Dec 25, 2017
Messages

12,258
Points

928

Location
The Royal Louise and the Frigate-shelter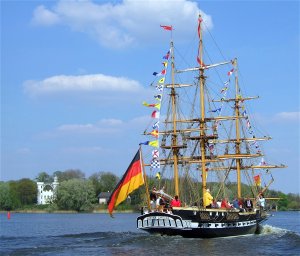 The reconstruction of the frigate Royal Louise in 2008
In 1833, Albert Dietrich Schadow erected the wooden frigate shelter, a boathouse for the sailing ship
Royal Louise
, on the east bank of the Peacock Island as a curved-beam construction. This sea-going copy of a frigate, reduced to a length of almost 18 meters, was given its name in memory of Queen Louise, who had died in 1810. The pleasure yacht was in 1831, after the joint victory over Napoleon, a gift from the British King William IV to the Prussian King Friedrich Wilhelm III.
Built in the Royal Dockyards in Woolwich and transferred in 1832 to Peacock Island. In 1841 the ship was transferred to the sailor station Kongsnæs on the Jungfernsee near Potsdam near the Glienicker bridge and kept its winter quarters in the frigate shed. It was stored there during the First World War. The resigned German Emperor Wilhelm II left the inherited ship to the club Seglerhaus am Wannsee for use by the youth department. In 1926, the fishery institute Sacrow took over the now well-fished ship's hull. In 1935, the Imperial Navy restored the ship and erected it as a memorial in Kiel. After the end of the Second World War, it was destroyed because of its poor condition by order of the Allied Control Council.
Glienicke waterfront, from left: Water tower/Pumping station, Dummy Frigate, Casino, Rotunda, Bridge; foregrund left on river: miniature frigate
Royal Luise
(2nd, 1831), (F. X. Sandmann, 1845)
Between 1997 and 1999, a replica was created in Berlin-Köpenick as part of a "employment-effective measure", which has been re-crossing the waters of the Unterhavel from the Scharfen Lanke in Spandau to the Lehnitzsee near Fahrland since 2004 under the responsibility of a newly founded association. Since then, the frigate has returned to its original purpose as a winter camp for the (new) Royal Louise.
The Ship
Technical data:

| | |
| --- | --- |
| Name: | Royal Louise |
| Registered port: | Berlin |
| Nation: | GER |
| Type of rigging: | VOLLSCHIFF |
| Type of ship: | Miniature-frigate |
| Year built: | 1996-1998 |
| Yard: | Yachtwerft Berlin, GER |
| Overall length: | 17.81 m |
| Length (hull): | 15.83 m |
| Breadth: | 4.40 m |
| Draught: | 1.60 m |
| Sail area: | 150 m2 |
| Ship's hull: | Holz / Wood |
| Power: | 138 PS |
| Engine: | MAN Diesel |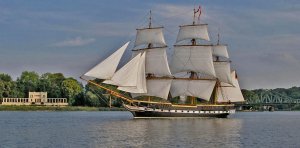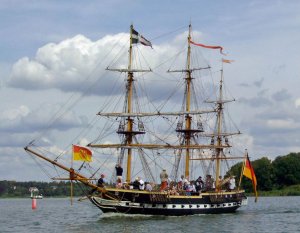 The frigate shed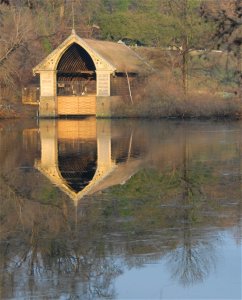 in 2008
The page of the ship:
pages with photos and further info:
VOLLSCHIFF Royal Louise: data, photos, profile of the sailing ship at Tall-Ship Fan