Joined

May 25, 2019
Messages

14
Points

48

Location
Hello at all,
I think it`s unsual to write a review about a kit nearly two years after opening the box - I try my very best!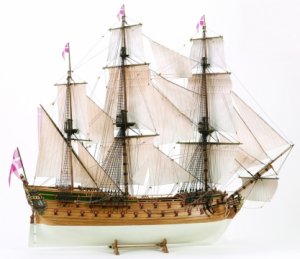 Photo by manufacturer
Manufacturer: Billing Boats, Scale 1/75
Type of ship: 3 masted warship, launched in 1765, deleted from the naval register in 1798
Measurements: Length 48.93 m, breadth 9.70 m, draught 5.07 m, displacement 1,076 tons, with a crew of 402
Price: around 325 Euros
The kit has the number BB0437 and contains laser cut frames, different types of wood - obechi, mahogany, pine, balsa and plywood. Also included is sailcloth, copperthread and brasswire. The canons and the belaying pins are made of brass. The ornaments, the gallion and the hatches for the canons are plastic. Billing boats offers only a single layer of planking for the hull. According to Billing Boats, the Norske Love should have the so called Nelson look, the hull very dark brown colour with light yellow battery lines. The decks should have light tar colour, the gun-carriages should be painted red. The masts are included in different diameters, as well as the yards, which are partially sanded.
Photo by modelshipworld.com
Included is a very good manual in different languages and several plans for sailcloth, rigging, position of frames and gun-ports in correct scale.
Photo by manufacturer
Another source for the ships original drawings are the Danish Naval Archives.
A few facts - there are two kits from billing boats, at first the kit based on the plans of 1765 (my first scratch-build - I only had the frames)
here the actual kit, which seems to show the ship with proper hull lines.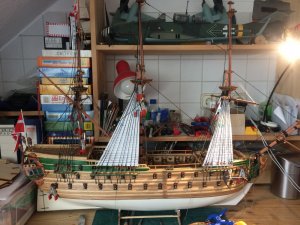 The deck is completely different, as well as the rigging.
Conclusion:
she is a beauty, but don´t get me wrong. There are some things, Billing Boats should have done better! Why only a single layer of planking, why are there no steps on the outside and why is there no dinghy? It was a coast guard ship! The hatches for the gunports are ironically the same as the hatches in the Wasa-kit from Billing Boats. You will find a lot of details to be improved, but such a kit should be payable and on the other hand there should be room for a modeler to show his skills.
By the way I have seen so many different colourings about this ship...
Greetings
Michael