Drawings.
1. All drawings I downloaded had the same scale except 4 pieces.
The right scale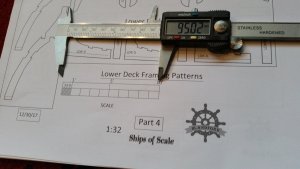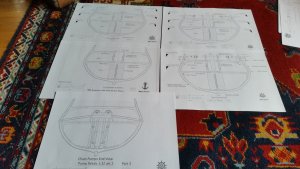 Wrong scale
Pattern ready for sawing in my garage.
Finally, I would say that now all drawings are correct after they were corrected by DONNIE and MIKE.
Thanks to everyone who folow, and thanks for all the help so far.
Administrator
Staff member
Administrator
Joined

Nov 3, 2018
Messages

4,715
Points

688

Location
This will be my build log for the HMS Blandford cross section
Happy sailing, Knut! I will be watching!!
Administrator
Staff member
Administrator
Joined

Dec 25, 2017
Messages

13,320
Points

938

Location
Hallo Knut,
I am happy to see, that you will start this scratch exercise - will follow with big interest
Joined

May 25, 2017
Messages

2,018
Points

538

Location
G'day Knut, all the best with your new build, I look forward to following it,

best regards John.
Thanks for all the nice feedback.
Thanks for the great tips from SOS members.
I only found one brand here in norway 3M but not the same type.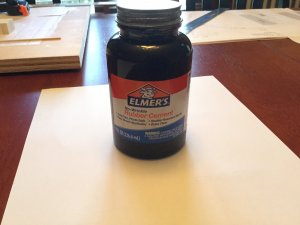 PRITT paper glue and 3M spray glue.
The material is birch for both, the front and rear frame.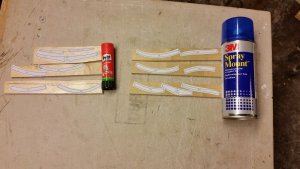 Then just try to see how well the pattern are attatch to the wood.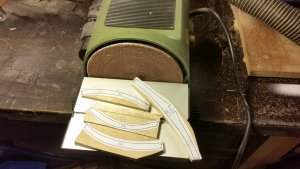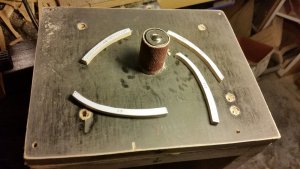 A little scraping with a sharp knife blade and the winner is the PRITT, bekase the pattern sitts well placed at the edges and is easy to scratch,
does not leave any residue, something 3M did not.
GET is also the cheapest about 2 DOLLAR.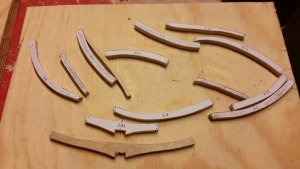 For mounting the parts I will try CASCOL INDOOR which several of my Norwegian model building friends use.
Later we get an answer to that.
Joined

Jul 2, 2018
Messages

928
Points

393
Location
Hi Knut, looks like your off to a good start. I'll be following.
Joined

Aug 4, 2018
Messages

1,094
Points

433

Location
Great start Brother will be following along
Joined

Aug 24, 2018
Messages

106
Points

78
Getting the popcorn out ...
Jiig
First, the control of the revised drawing is measured.
Assembly.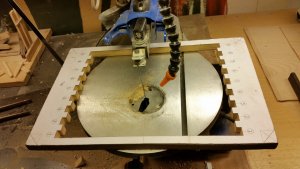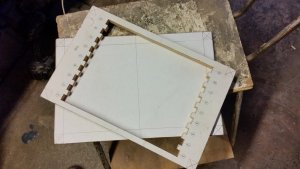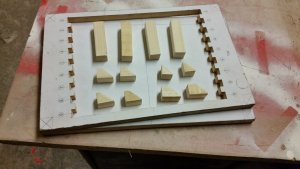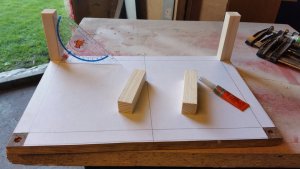 Note that the top plate is as thick as the bottom plate, but from the bottom plate to the top is high correct, I have to adjust some cuts for frames
as they come.
Some parts for further customization.
Moved indoors for further customization.
Here are the types of wood I'm considering using.
Cherry - frames / beams
Birch - Planking inside and under hwales
Holly - lower deck / main deck
Holly colored - Hwales, fake keel, rails, pump -----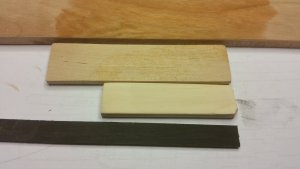 OPINIONS ???
Administrator
Staff member
Administrator
Joined

Nov 3, 2018
Messages

4,715
Points

688

Location
I like it, Knut!! I like the color scheme...under oil it will look very contrast.
Thanks JIM, I'm a little unsure of black stain on holly but with finer grade on sandpaper and a layer of good wood oil,
I stand a little bit stuck now when my proxxon thickener is sent to repair,
now I'm going to make a test frame of birch that I've already cut out,
That's the next thing I want to show in my log
Sample frame Birch
Garage: Production of frame parts and mounting plate- pressure plate.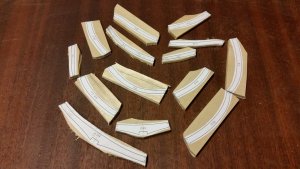 Indoors: No glass plate but transparent film, 10-min glue,
so I use clamps without separating the frame from the film, this was of great help.
Garage: Sanding of test frame and spreadderbar.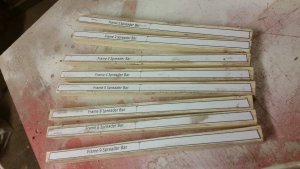 Indoors: Testing frame and jig. here I have to adjust to get everything in line.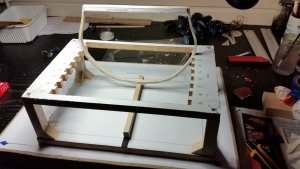 Next will be testing of different types of bolts, wooden nails? - waiting for the drawingplate in the mail,
try out some tip as told by Doc Blake who also tip on double-sided tape.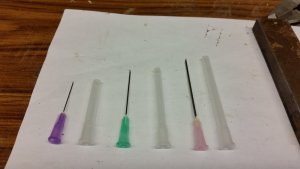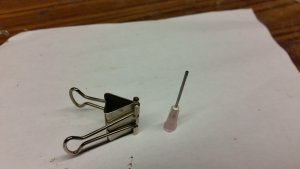 Greeting-