Joined

Aug 25, 2017
Messages

313
Points

193
Location
In 1868 Scottish ship builder John Elder suggested that widening the beam of a ship would reduce the area needed to be protected, allowing it to carry thicker armour and heavier, more powerful guns, and also have a shallower draught. Rear Admiral Andrei Alexandrovich Popov of the Imperial Russian Navy expanded on this idea of broadening a ship by designing one that was circular with a flat bottomed hull. Novgorod was built in 1871, had a diameter of 101 feet, a draught of 13.5 feet, displaced 2531 tons and a crew of 151 officers and ratings. The ship had 6 steam engines, each driving a single propeller, with a speed of about 6 knots, but consumed huge amounts of coal, 200 tons of coal gave about 480 miles steaming. Steering was a problem, the hull shape meant that the rudder was virtually useless, it was locked and the engines were used to steer the ship. Novgorod was armed with 2 20-calibre 11 inch rifled muzzle loading guns mounted on separate revolving turntables, which could be locked together. It could take about 10 minutes to reload each gun. The locks on the turntables were weak causing them to rotate when a gun was fired, leading to the myth that the whole ship rotated when a gun fired. During the Russo-Turkish war she was assigned to the defence of Odessa where she was fitted with extra guns. Novgorod was taken off the navy list in 1903 and scrapped in 1911. She has often been called one of the world's worst warships.
This model kit by Ropos is in 1/350 scale and is resin and photo etch. The resin is well cast, with good detail and only small pouring plugs. The instructions are just a few colour pictures which are not very clear, but it's fairly obvious where all the parts go. This another ship I built earlier this year.
The main problem I have had is trying to work out what colours this ship should be. The only thing I know for certain is that the hull was covered in copper sheathing, so a trip to Halfords (Car supplies shop) resulted in a can of Vauxhall copper spray paint appearing at my shed. Any photo that I have found are black and white and seem to show the ship being grey overall. There are several models, but they are all different colour schemes, so I suppose I could choose a colour scheme and no one would be any the wiser. I have decided that I will paint the hull above the waterline black, top surfaces grey, ventilators grey and white funnels, with wooden decks on the bridge and walkways. The lifeboats have been sprayed with Halfords white primer and the insides painted with Humbrol tan. I am going to add some more detail to the lifeboats later. The rest of the ship parts and the photo etch were sprayed with Halfords grey primer. Leaving this for a week or so, I then fitted the rudder, and like the original, this was stuck in position to stop it moving. The hull was then sprayed with a couple of coats of the Vauxhall copper. I painted the above waterline hull with Tamiya matt black and once this was dry, the two hull pieces were glued together with Araldite, clamped and left for a couple of days. What is good about this kit is that you get a stand, I drilled a 2mm hole right through it and then sprayed it matt black. I had already drilled a 2mm hole in the hull as well and once the paint was dry and hardened I glued 2mm diameter brass wire to the hull. Once this is dry I will then attach the stand to the hull using the brass wire for extra support. The pictures show the ship just sitting on the stand at the moment.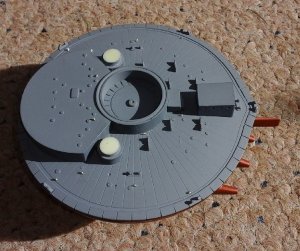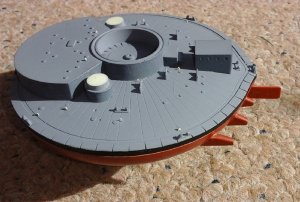 Cheers Andy
Last edited: