Joined

Oct 19, 2018
Messages

588
Points

453
Location
He comenzado un nuevo proyecto.
Se trata de la Galera Real de D. Juan de Austria en la Batalla de Lepanto.
Hace ya unos años hice la decoración de un modelo que reproduce la recreación, a tamaño natural, de dicha galera existente en Barcelona (España). Hice ese trabajo en colaboración con el modelista Máximo Agudo Mangas.
En esta ocasión, se trata de volver a hacer una recreación de dicha galera sobre bases diferntes. El proyecto es tambien un proyecto de colaboración de cuatro modelistas,del cual yo soy responsable de la carroza y la decoración, del programa estético del modelo.
Este proyecto parte de un trabajo de investigación. La galera de Barcelona, la de tamaño 1:1, se construyó en los años setenta del siglo XX. Es un trabajo de mérito, pero la investigación en los últimos 50 años, ha puesto de manifiesto algunas inexactitudes. Por eso en este modelo vamos a partir de cero, estudiando los documentos contemporáneos, los próximos a la época y los estudios aparecidos en los últimos años.
El proyecto está auspiciado por el Museo Naval de Madrid y de cara al 450 aniversario de la batalla de Lepanto.
Como he dicho, me ceñiré a mi parte que es la carroza y la decoración. El estudio de formas y planos del casco, - buco – y estructuras los ha elaborado el modelista e ingeniero naval Luis Fariña.
En cuanto a la decoración, parte importantisimo en este buque, utilizaré una fuente principal y excepcional del siglo XVI, se trata de la
Descripción de la Galera Real del Sermo. Sr. D. Juan de Austria,
obra de Juan de Mallara,.
En este enlace puede consultarse, en su versión facsimil de 1876:
http://www.bibliotecavirtualdeandalucia.es/catalogo/es/consulta/registro.cmd?id=1021555
Otra obra importante es el cuadro de La Visión de San Pio V, existente en el Museo Naval de Madrid, el cual data del XVII, posterior aunque próximo a la batalla por lo que es una fuente pictorica muy próxima a los hechos y que puede servir de orientación estética importante.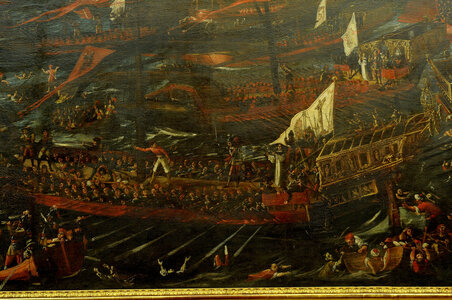 google translation:
I have started a new project.
It is the Royal Galley of D. Juan de Austria in the Battle of Lepanto.
A few years ago I did the decoration of a model that reproduces the life-size recreation of this existing gallery in Barcelona (Spain). He did that work in collaboration with the modeler Máximo Agudo Mangas.
On this occasion, it is about re-making a recreation of said gallery on different bases. The project is also a collaborative project of four modellers, of which I am responsible for the float and the decoration, the aesthetic program of the model.
This project starts from a research work. The galley of Barcelona, the 1: 1 size, was built in the 1970s. It's worthwhile work, but research over the past 50 years has revealed some inaccuracies. That is why in this model we start from scratch, studying contemporary documents, those close to the time and studies that have appeared in recent years.
The project is sponsored by the Naval Museum of Madrid and facing the 450th anniversary of the Battle of Lepanto.
As I said, I will stick to my part which is the float and the decoration. The study of shapes and planes of the hull, - buco - and structures has been prepared by the modeler and naval engineer Luis Fariña.
Regarding the decoration, a very important part of this ship, I will use a main and exceptional source from the 16th century, it is the Description of the Royal Galley of the Sermo. Mr. D. Juan de Austria, by Juan de Mallara ,.
In this link it can be consulted, in its facsimile version of 1876:
La Biblioteca Virtual de Andalucía es la biblioteca digital del patrimonio documental de Andalucía. De acceso libre y gratuito, su objetivo es reunir y proporcionar documentos digitalizados de interés para el estudio, conocimiento y divulgación de la cultura andaluza.
www.bibliotecavirtualdeandalucia.es
Another important work is the painting of The Vision of San Pio V, existing in the Naval Museum of Madrid, which dates from the seventeenth century, later although close to the battle, so it is a pictorial source very close to the facts and that can be used of important aesthetic orientation.
Last edited by a moderator: