Joined

Oct 19, 2018
Messages

177
Points

143
Location
I found a 3D file for an Evinrude outboard motor online that I liked and thought I could use in a build. I finally got one printed that I liked and turned my attention to a suitable boat. I found "Chessy" on Svenson's Free Boat Plans. As I was completing the build I started thinking about a display cradle for it and thought that the traditional cradle was not suitable and started searching for a boat trailer. I found a 3D printable boat trailer and decided it would work with some modifications.
I did not want to just build the boat to be just any old outboard boat. I had built rowboats for fishing, hunting and crabbing and liked the idea of a theme for the project similar to those.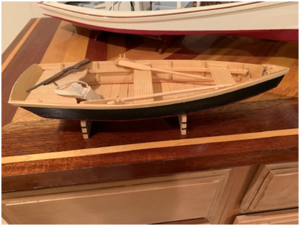 I decided to build it with a recreational shrimping theme. South Carolina allows recreational shrimpers to bait for shrimp for approximately three months every year. Each shrimper is allowed 10 bait stations during a shrimping trip, which are marked by PVC poles. Shrimpers are allowed to catch a 48-quart cooler full of shrimp a day. Recreational shrimpers use inshore areas because it offers them both shallow areas to cast their nets, and protection from any breezy conditions. The bait used is a mixture of fish meal and clay and stinks like crazy. I shrimped with my father for many years until he was in his nineties. It was great fun and we normally had shrimp to last the winter.
Here is how the project turned out. I know it is not a big majestic ship as some of you build but it was great fun and didn't take me a year to complete. Additionally, I worked on other boats as I was building it. Yes a nice fill in project.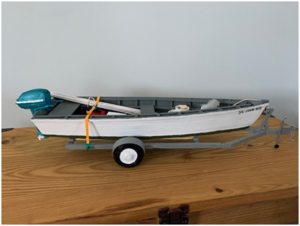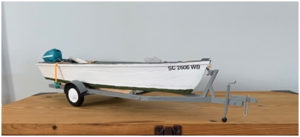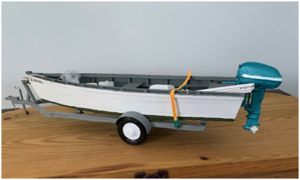 Inside the boat are three 5 gallon cans, two used to contain the bait and the third one holds the cast net. There is an anchor that is used to anchor out while making runs to the baited area. Two milk jugs that contain frozen ice, a cooler to keep the shrimp in, and the ten poles are also in the boat. The 5 gallon cans, anchor, milk jugs, cooler, outboard motor and trailer were 3D printed. The gas can is made from wood. The wood for the boat is pine.