Joined

Sep 17, 2018
Messages

390
Points

278
Location
Hello friends,
after an big change in my life I do now find some time for modelbuilding again under changed circumstances.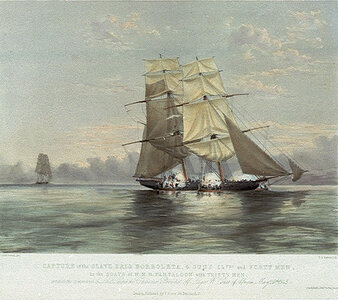 As my ship yard is in removal boxes I decided to build something small. And due to this I looked for a small ship in a small scale - and was able to find it:
HMS PANTALOON was build as a yacht for the 5th Duke of Portland in 1831 and purchased by the RN in December of the very same year.
In January 1840 we found her - armed with eight 18prd carronades, a pair of 6pdr cannons - as tender to HMY ROYAL GEORGE that is how I want to build her.
Her measurements are interestingly:
Length on lower deck 90ft
Breadth 29'4 1/4" x depth 12'8"
The hull length of the kit will be some 140mm.
The plan's booklet gives us a plenty of fine detailling and helpfull scetches to the rigg: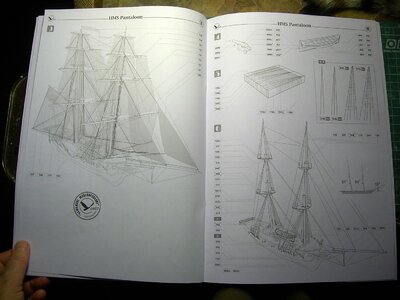 I am absolutly unshure how to build her in full canvas or with blank masts:
We do have got the halfmodel of her hull in the NMM with the ordonance in ivory with her complete black hull as driven at the African west-coast during the fight against slavers*:
As the kit comes with a print of the hull with her early colouring I decided to take her in this manner as I think a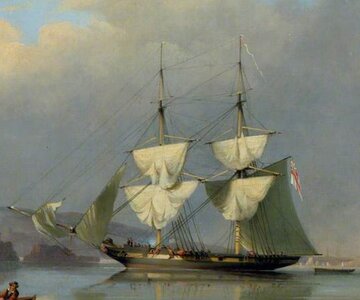 Royal Tender is a really intersting goal for a build.
So I have ordered the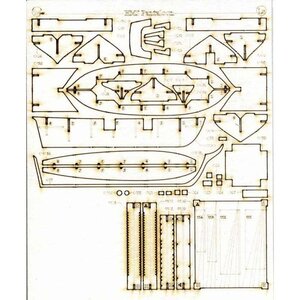 laser-cut bulkhead set and other helpfull items. The space between the bulkheads will be filled with balsa wood - and the gunports in the bulkwark are slightly opened for the hot summer of 1840. Soaking the bulkwalk with superglue should make it stiff - so the guunports could be openend. I like to try to open them - as the staircases (the cut outs are given in the longitudinal frame/center board) to give some more eyecatchers on this small model with its tiny (some160mm) long deck.
About some details I am completly uncertain - the later colours (as on HMS TERROR/EREBUS) were green inside the bulkwalk - but in 1840 as a Royal Tender, too?
The under water ship is printed completly in a copper oxyd brown. So I do think of imitating the copper plates by thin paper - priming them in differend shades of black and anthrazit and spraying the hole in a bronze to finish it "coppered out of the can"... But is it some brainless thing to do?

The admirality drawing ZAZ5113 gives us a fine lined yacht for high speed - ideal for a fast messenger in Royal duty or a hunter of fast slavers. Important to me is the absence of a steering wheel. Alsoo the rigg is quite simple as it is a brigg rigg and I am planing to use Evergreen piping material for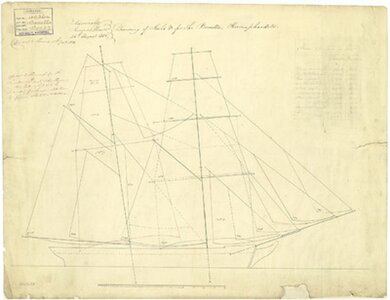 the masts and yards in ZAZ 5115
I thin there will have beem np imitated windows on the transom - only a nameolate and two gunports (square or round?) and I do look a bit scared for the very nice figurehead: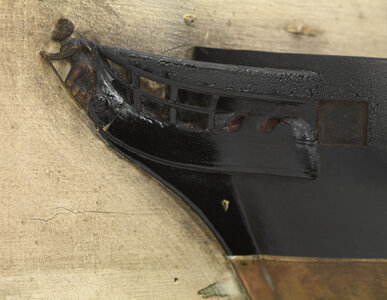 That's my new project folks...
Hope you like it - I am awaiting some additive parts and I do think about how to store the kit save during the built - due to two big "agile" dogs entering my new life - an old wooden ammo box my be the right thing...
Best wishes from Berlin,
Chris
__________________
*When the sailing briggs were replaced by steampowered sidewheelers the coal for the independend speed in this fight against slavery was digged out of the earth in the Welsh and Northumberland mines... ...by children.
Last edited: