Administrative
Staff member
Administrative
Joined

Dec 25, 2017
Messages

12,277
Points

928

Location
Planset Review:
Corvette LA CREOLE - 1823
A HISTORY OF THE CORVETTE IN THE FRENCH NAVY 1650-1850 & MONOGRAPH
in scale 1:48
by
Jean Boudriot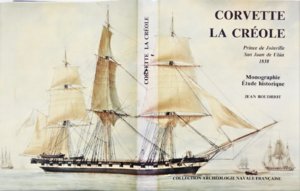 This monograph, published by Jean Boudriot already in 1990, is still available at ancre in french or italian language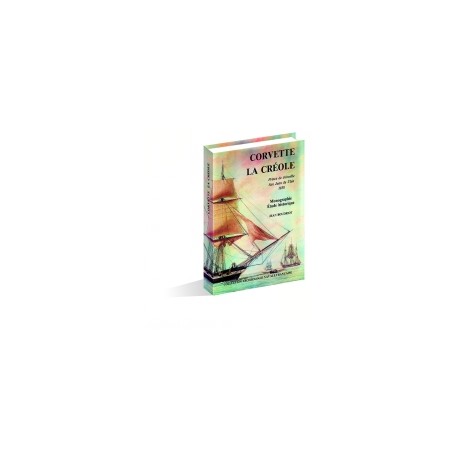 A HISTORY OF THE CORVETTE IN THE FRENCH NAVY 1650-1850 & MONOGRAPH

ancre.fr
My copy is the french version I bought already longer time ago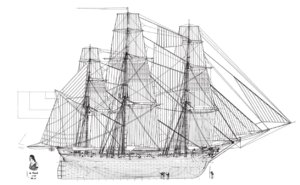 Size of the finished model in scale 1:48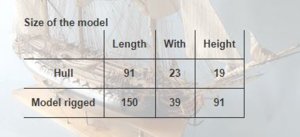 One wonderful contemporary model of the corvette is in the mussee de la Marine
Notice d'oeuvre ''Maquette de bateau, Créole, corvette de 24 bouches à feu, 1829'' du musée ''Les collections du musée | Musée national de la Marine''
mnm.webmuseo.com
and a wonderful model built by B. Rimlinger in scale 1:36 (more or less a building log - click trough the pages):
finished model:
SYNOPSIS:
The corvette takes its place in our navy only beginning in 1696 when it is referred to as a "corvette or long bark." It appears in annual inventories until 1746 when the term "long bark" falls off and only the name "corvette"is retained. We felt it was important to choose a distinctive example of this type of ship in our navy during the Restoration. Hence the choice of the Créole, whose celebrity is heightened by the role she played in San Juan de Ulloa, Mexico, in 1838, under the command of the young prince de Joinville.
The first part of the work is devoted to the history of the corvette in our navy over a period of nearly two centuries. An original text and numerous documents of the period are guaranteed to please enthusiasts of French naval history.
The second part is especially intended for ship's model builders. Fifteen plates describe the Créole in full detail and several photographs of the original model, now preserved in the collections of the Musée de la Marine in Paris, enrich the monograph. *
The study of the rigging is developed in depth. In short, this is a monograph of exemplary quality. The 1:48 scale we have chosen will allow practiced model builders to construct a first-rate piece.
CONTENT and PRESENTATION:
One volume, 24 x 31cm format, full cloth binding, 176 pages, with 14 plates (each with 3 and 4 fold-out sections), in the form of an appendix.
A second set of plates with a fifth plate showing the Créole with sails unfurled is presented in a laminated dust jacket,
with a tinted watercolor by F. Roux, which is identical to the jacket of the bound volume.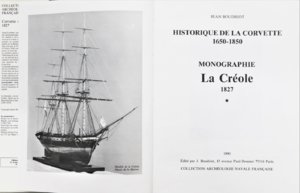 CONTENT of the Booklet:
HISTORIQUE
La barque longue XVII° siècle
La corvette 1ère moitié XVIIIème siècle
La corvette 2ème moitié XVIIIème siècle
Les corvettes du programme de 1793
La corvette Révolution-Premier Empire
La corvette Restauration-Louis-Philippe
Divers modèles au Musée de la marine
Corvette la Créole
L'expédition du Mexique
La Créole à St-Jean de Ulloa
CONTENT of the MONOGRAPHIE in the Booklet:
Commentaires des planches
Notes diverses
Photos du modèle de la Créole
Règles du gréement
Manoeuvres des mâts
Manoeuvres des vergues
Manoeuvres des voiles
Aboutissement des manoeuvres
Voiles
Notes
Photos du gréement
CONTENT of the Drawings / Plates:
14 planches à l'échelle du 1/48ème + 1 planche à l'échelle du 1/84ème placées à la fin de l'ouvrage.
Liste des planches au 1/48ème
1) Définition de la coque I
2) Définition de la coque II
3) Bordage de la coque
4) Doublage cuivre de la carène
5) Bordage et vaigrage du pont
6) Réalisation proue et poupe
7) Élévation de la coque accastillée
8) Coupes longitudinales et transversales
9) Vues avant et arrière
10) Ensemble du pont
11) Éléments de mâture I
12) Éléments de mâture II, Hunes, Barres
13) Embarcation et ancres
14) Artillerie et éléments d'accastillage
15) La Créole sous voile à l'échelle du 1/84ème.
Look Inside of the Book:



The History of the Corvettes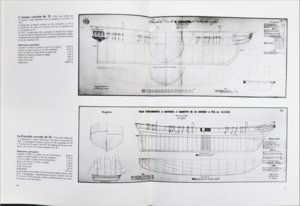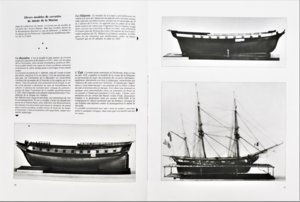 The Monograph: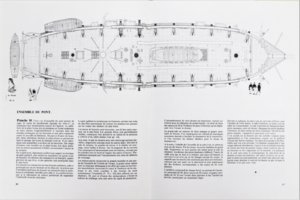 to be continued ..... please take a look also at the next following post