Administrator
Staff member
Administrator
Joined

Dec 25, 2017
Messages

13,170
Points

938

Location
Planset Review:
LE FRANCOIS
5th class vessels
built in Toulon 1683
(from a manuscript by François Coulomb)
by
J.C. LEMINEUR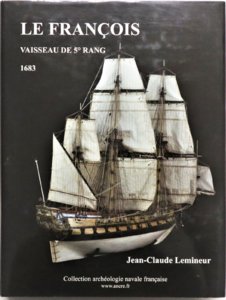 Planset in scale 1:48 is available at ancre in french, italian or spanish language. An english version is planned.
Also available is the planset in scale 1:36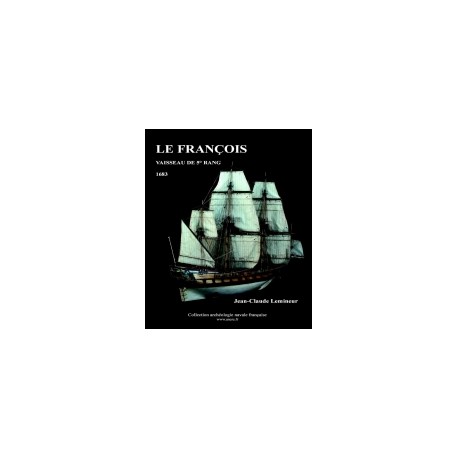 Toulon 1683 - 5th class vessels - From a manuscript by François Coulomb

ancre.fr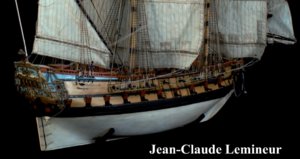 SYNOPSIS:
In 1680 Colbert gave orders to the administrators in Brest, Rochefort and Toulon to set up a school to teach construction theory to the Navy guards (cadets).
At Toulon, François Coulomb was chosen to initiate the future officers, and the lessons he gave from 1680 onwards encouraged him to edit a manuscript, dated 1683.
In answer to our concern to continue the study of XVIIth century French naval architecture, (see the Vaisseau pont by M. de Tourville and the monograph of La Belle) Jean Boudriot had the idea of translating the 1683 manuscript through drawings.
He therefore suggested to Jean-Claude Lemineur, the author of the work Les vaisseaux du Roi-Soleil, that he should undertake this very significant work. Much effort would be necessary to complete it.
In the 1/48th scale monograph we are presenting, Jean-Claude Lemineur, after detailed analysis of the manuscript and additional sources, explains the use of drawings, then comments on the 38 plates necessary to define the ship and describe the rigging.
The work ends with useful information about the decoration and painting of the vessel.
Analysis of the photographs of three models of the 'François' during construction completes this information.
Model-makers thus have complete and particularly detailed documentation on 'LE FRANCOIS', a small 5th class vessel in Colbert's navy.
Size
of the finished model:
Content: left the booklet and on the right the drawings / plates
CONTENT OF THE MONOGRAPH
Usual presentation: strong binding with flap, 24 x 31 cm format in grey-blue cloth, with a glossy cover. A 188 page, square glued spine stitching, on 150g paper, numerous illustrations, including eight pages of colour photographs of several models under construction.
188 page, 24 x 31 format publication including
- Introduction by Jean Boudriot
- Presentation of François Coulomb's 1683 manuscript
- Use of drawings
- Monograph of the 5th class vessel LE FRANÇOIS
- Rigging details
- Volumetric characteristics of the hull,
- Decoration of the 'François'
- Paints used
- Comments on the colour photographs of models under construction.
LIST OF SCALE PLATES
List of 1/48th scale plates comprising the construction drawings.
Schematic line plans
1. Schematic vertical line elevation
2. Schematic plan view
Construction
3. Timbered elevation
4. Stern construction
5. Bow construction
6. Longitudinal section
7. Transverse sections
8. Profiles of forward frames 1 to 16
9. Profiles of forward frames 17 to 35
10. Profiles of aft frames from midship beam to 15
11. Profiles of aft frames 16 to 29
12. Profiles of aft frames 30 to 40
13. Horizontal section under the false beams
14. Horizontal section under the 1st deck beams
15. 1st deck construction
16. 2nd deck construction
17. Poop construction
Interior layout and rigging
18. Head construction and stern layout
19. Transom and officers' head construction
20. Planked elevation
21. Decorated elevation
22. Longitudinal section of the layout
23. Transverse sections of the layout
24. Plan of 1st deck
25. Plan of 2nd deck
26. Plans of poop
Decoration and equipment
27. Bow and poop decorations
28. Equipment and launch
29. Equipment and artillery
30. Mainmast
31. Foremast
32. Mizzen mast and bowsprit
Sails
33. Mainmast sails
34. Foremast sails
35. Mizzen mast sails
36. Additional sails
Rigging
37. Rigging details
38. Large elevation under sail (1/72 scale)
Look Inside of the Booklet: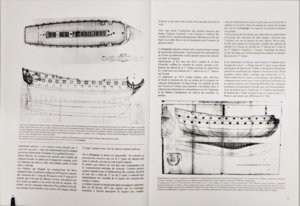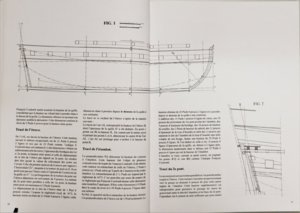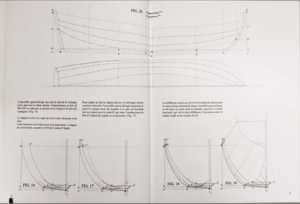 Every single drawing is explained in the booklet - so very helpful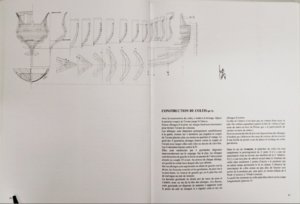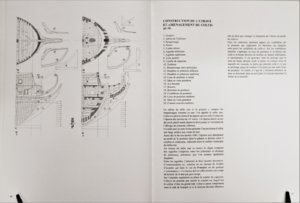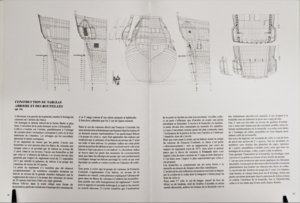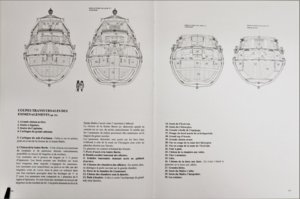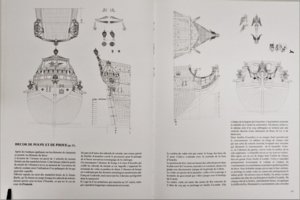 to be continued in the following post .....