Joined

Aug 9, 2020
Messages

120
Points

103
Location
The Prins Willem is probably the largest spiegelretourship (a merchant vessel for the East-India trade), that was build in the 17th century by the VOC (United East-India trade companies).
In 1650 the ship was launched in Middelburg.
In 1651 the ship sailed the first time to Batatvia (East-India).
In the first war between England and Holland (Actually the Republic of the seven procinces) the VOC barrowed 5 vessels to the state to serve in the war.
To fulfill the function as ship of war the armament was enlarged. The PW was for a short period the flagship of admiral Witte de Wit. After participate in the battle of Duins the ship was returned to the VOC.
The PW served as retourship for the VOC until 1662. In 1662 the ship was wrecked in a heavy storm near the isle of Mauritius.
The model will be fitted like she was after the returning to the VOC.
I'll use the book of Herman Ketting incl. the belonging plans.
Actually the building has started the end of may and some progress has been made. I keep a build-log on a dutch modellers forum modelbouwforum.nl, the coming days I'll make a build-log on this forum too.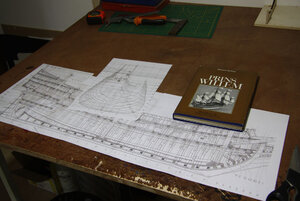 By means of photoshop I've enlarged the plans to a scale of 1:75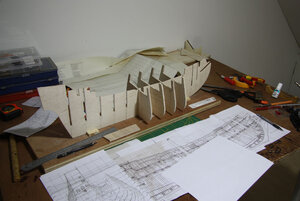 For the method of building I've chosen for the method most frequented by kit-models. It's a very nice jigsaw piece of work.
Last edited: