Administrator
Staff member
Administrator
Joined

Dec 25, 2017
Messages

15,130
Points

938

Location
The collection of prisoner of war / bone ship models in the International Maritime Museum, Hamburg (IMMH) is a very impressive collection.
It is the largest collection of bone ships displayed in a museum anywhere in the world.
The bone ship model collection of Peter Tamm that has grown over decades is outstanding for its diversity.
It ranges from smaller models such as one 16.5 cm in length to the 144 cm long USS
CHESAPEAKE.
The collection is documented in a beautiful book with title
Prisoner of War: Bone Ship Models - Treasures from the Age of Napoleonic Wars
written by
Manfred Stein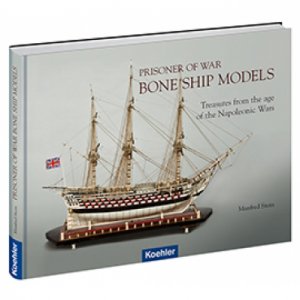 Synopsis:
During 1792-1815, the period of the Coalition Wars and the Napoleonic Wars between France and Europe, prisoners were taken on both sides. The majority of them were confined, sometimes for many years, in England and Scotland. Some of the prisoners built ship models from scraps of wood or mutton and beef bones. Rigging was made of silk or whatever other fine material could be obtained. The prisoners developed an art form and the models were sold to the public through the guards. This trade enabled the prisoner to acquire ivory and special tools to make the models all the more decorative. The remain highly sought after and valuable collectors' items to this day. This book shows the beauty of the models selected as the finest in the Peter Tamm Collection in the International Maritime Museum of Hamburg.
Here the photos I made during my visit
A scene is showing how it could have looked like when prisoners made these models
This is the famous
golden ship model of the Santa Maria
next to the entrance of the bone ship exhibition area - Completely built from gold and platinum
Now the models