I slowly start the rigging of the Louis.
And I will experiment
I am going to use a method that I have seen used by some
Frank Mastini Method Ship Modeling Book Simplified McGraw-Hill Book Publish 1990
Frank Mastini is an Italian of origin to emigrate to the USA Deceased in 2006
For 30 years he made a career as a naval model maker and built custom ships for several museums and private collectors.
What Mastini recommends is to make most of the rope of the mats on the work table or it is easy to make the connections and this before mounting the mats on the ship. As he says his will make a cable spaghetti but once the mats install it will be easy to make the internal connections.
I saw this method used by some builder but I can not say if it works or not I never try it.
So I start in the unknown and at worst I will have to start again if it does not work.
---------------------------------------------------------------------------------------------------------
According to the instructions of Mamoli I should follow an assembly order that goes from the stern to the bow so mizzen, main mast, foremast and finish with the bowsprit drawing number 6
But I decided to make the main mast first that I already made and the yard
I make sure that its verticality is impeccable 21-1
So I start with the 2 most interior cables 21-2 (1)
Good according to the kit should use brass wire to make a hook and a rings on the 4 of the pulley that clings to the rings of the chanel 21-3
I did one I did not like the result so I made them as I usually do.
Little trick to have black rope 21-4 I simply use a black felt pen
For the ring at the top of the pulley a small nails a knot and hardened with CA glue 21-5
Comparison 21-6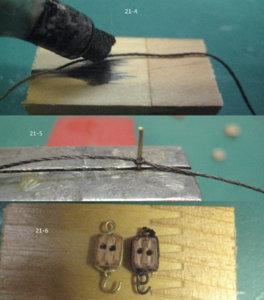 Another trick, this one to facilitate the passage of the cable in the small hole of pulley
I adorn the end of the CA glue string which once hardened becomes rigid 21-7 once beveled easily passes through holes 21-8
On the main mast but in the part under the bridge I put 2 rings 1 on each side 21-9
Here are the 4 systems are made secure with tape and numbered 21-10, 21-11
Mamoli does not provide black cable for all that structural fitting
A tip for this cheap black cable store that sells craft product for jewelry making 21-12 another trick to find small thin forceps to cut small wire radius cosmetics cut nails
All the cables of the stay cables are near numbered 21-13 the cape of sheep of the platform are to pose 21-14 to pose a main cable which goes from the mizzen mat and this connects to the big mast 21-2 (2)
At this point everything is fine and I will continue this way, as expected its going to become spaghetti but if numbered and I avoid knots its should not be too bad