Joined

Mar 9, 2020
Messages

96
Points

113
Location
Captain John H. Randall made a fortune as a privateer captain first capturing French vessels under the British flag and then British vessels under the American flag during the Revolutionary War. When he died in 1801, he bequeathed money to found a sailors retirement home on Staten Island ,N.Y. named Sailors Snug Harbor. As his heirs sold off property from his large farm in what is now lower Manhattan, the money was used to fund the and expand the home. By the time it closed in 1976 almost 10,000 retired sailors had lived there.
The buildings, grounds, and amenities that Snug Harbor offered would still appeal as a place to live to retirees today. I can imagine the destitute sailors used to a hard life at sea thinking they had entered an earthly version of heaven when they arrived there. Here is a description from Wikipedia:
Sailors' Snug Harbor includes 26 Greek Revival, Beaux Arts, Italianate and Victorian style buildings. Among those are "Temple Row", five interlocking Greek Revival buildings labeled A through E. The buildings are set in extensive, landscaped grounds, surrounded by the 19th-century cast-iron fence. The grounds also include a chapel and a sailors' cemetery. The cultural center includes the Staten Island Botanical Garden, the Staten Island Children's Museum, the Staten Island Museum, the Newhouse Center for Contemporary Art, and the Noble Maritime Collection, as well as the Art Lab and the Music Hall.
The site is considered Staten Island's "crown jewel"[5] and "an incomparable remnant of New York's 19th-century seafaring past."[6] It is a National Historic Landmark District. Several buildings in the complex are New York City designated landmarks.

Among the buildings in "Temple Row" , shown below,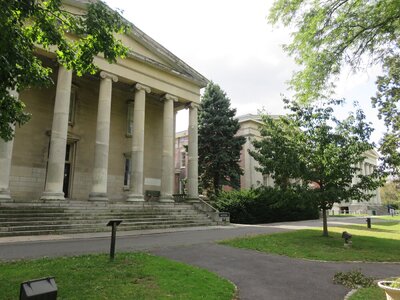 is the Noble Maritime Collection, three floors of exhibits dedicated to the maritime art, old ship models, a number of which were made by the retired sailors, and a history of the Robbins Reef Light House. The rooms in the building itself show the facilities and living quarters available to the sailors. For more information about Noble and his work, see the related review I posted in the Books and References Forum.
If you are in the area, I highly recommend a visit to Sailors Snug Harbor.