Joined

Sep 1, 2020
Messages

173
Points

113
Location
I have decided to put myself out there and do a build log. I have selected the Artesania Latina "San Francisco Cross Section" for my second wooden build. My reasons for this choice were:
1: The kit was available (many kits were sold out, I assume due to the number of people staying at home in early and mid-2020). The price was right as well.
2. My first build took me 21 months to complete and I was looking for something a bit quicker this time.
3. I liked the 1:50 scale after doing one at 1:100 scale.
4. I wanted a model that would allow me to better my skills on the details and rigging without taking nearly 2 years to complete.
The model arrived (from the UK) about 2 weeks earlier than expected.
Damaged corner of the box brought out the camera to document the damaged box and the contents.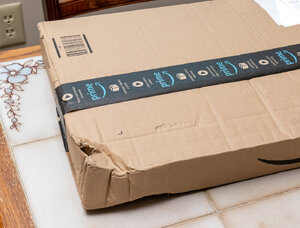 The damage was isolated to one corner away from the model.
Inside the box everything was ship-shape without any damage.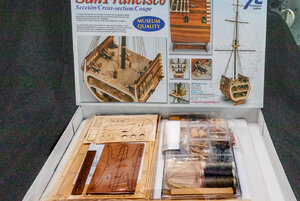 My initial impressions were that the materials are quite nice. The wood appears to be straight with sharp edges. The small parts are housed in a hard plastic compartmented box. My only real disappointment is the lack of a printed manual. The manual is provided as a CD. Hopefully everyone who buys this kit will have a CD reader to be able to see the booklet. I had already downloaded the two PDF instruction files from the AL website and I have a CD reader, so not a big deal for me. I would have liked to have had full size drawings of the masts and yards, but the instructions are clear enough to follow. I decided to printout the instructions and put them into a three-ring binder as opposed to having to refer to a computer screen; I guess I am still somewhat old school.