Joined

Aug 27, 2021
Messages

390
Points

278
Location
Had an unplanned break from most shipbuilding activity. The Admiral contracted Covid, then I caught it. We're mostly over it now.
I did get a little bit accomplished. I've been working on the display base. Started with a pine base and applied 3 coats of Dark Walnut Danish Oil after sanding to 220#. Then applied a coat of Johnson's Paste Wax and buffed it out. Finally a coat of Renaissance Wax with a final buffing. Polished the brass with Simichrome followed by Renaissance Wax.
I also worked on the windows.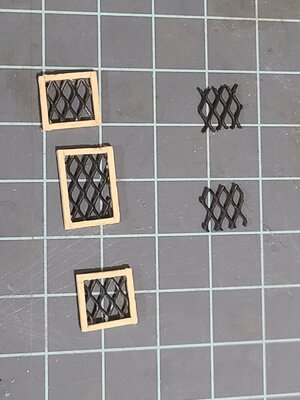 The book calls for 20mm X 20mm and 20mm X 30mm. The doors are 10mm X 20mm. This makes the windows comically large. I made them 10mm X 10mm and 10mm X 15mm which fits what the pictures show. The measurements I list are of the window grating, the frames are actually larger.
Thank you for looking.
Glenn