Hello!
This is the build log for my Scottish Maid from Artesania Latina. This is my first wooden ship build.
My intention was to someday build the (now discontinued) HMS Surprise in 1/48 from Artesania Latina so I figured buying a smaller model of the same brand that exposes me to planking and rigging is the way to go. I had no idea that this has been the choice of a first model for many people dating back decades.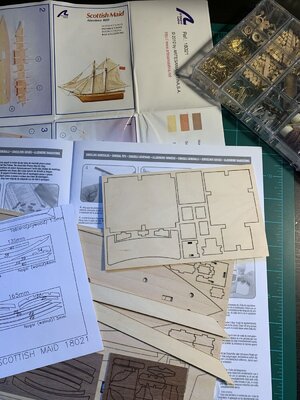 I've had this model sitting around for maybe 5 years now and I finally I started building in around April 1st 2021. I had no idea how to start and felt like the information online is overwhelming so I just got started reading the instructions in the box.
I built this tank last year and it was the first model I have built in about 30 years to see if I'd like to get back into the hobby. When it was time for the next model I was torn between a plastic Sonderkraftfahrzeug 251 or finally getting into the wooden ship side of the hobby. The only tools I had where those for this plastic model but I also bought a $10 rotary tool and attachments.
Here we go, this part wasn't all that difficult.
So far I've been using this glue exclusively. It dries clear but unfortunately seals the wood so I tried to be careful to remove excess as much as possible.
Here is where the difference between wood and plastic models starts to become obvious, grinding things into shape.
First time bending and mounting planks. I soaked them in water but couldn't figure out how to get them to stay bent so I just mounted them wet. With the tiny nails and a little glue it was easier than anticipated, but only as long as the bent is shallow.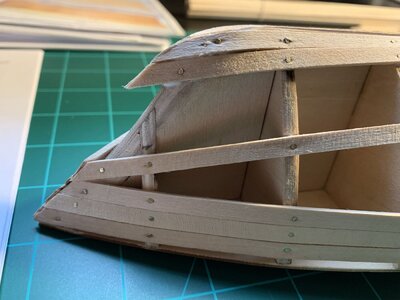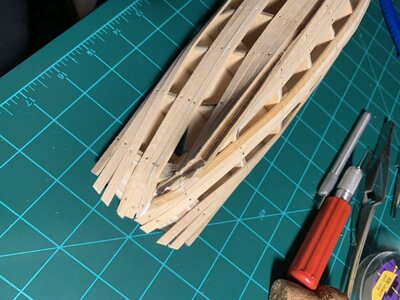 Here things started to go South and some planks started cracking at the stern. But trusting that there is another layer of planks and lots of filler to hide the issues I pressed on.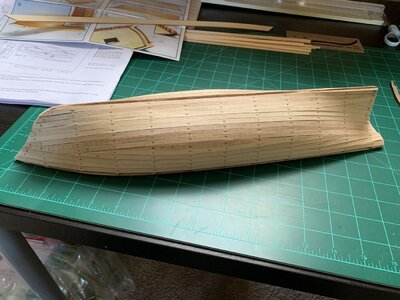 Yay, first layer of planks done! April 12th '21 now.