Well-Known Member
Staff member
Blandford Group Build
Joined

Dec 25, 2017
Messages

5,002
Points

113

Location
I am looking for some volumes of the HMS Warrior guide from Romero
According my knowledge these books listed were published, so I am looking for the Volumes which were printed
bold,
Volumes I, III and IV I have already
The normal publications were spiral bounded, but there were also the hardcover versions published.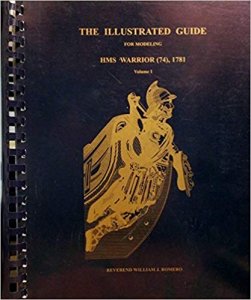 "The Illustrated Guide For Modeling HMS WARRIOR (74), 1781"
by
Reverend William J. Romero
- Volume I
Basic Hull Construction
372 pages
-
Volume II
Hull Planking and Deck Framing
380 pages
- Volume III
Lower Gun Deck Detailing,
Gun Making, Gun Port Lids,
Ship´s Figurehead Carving,
Main Deck Framing
368 pages
- Volume IV
Galleries, Stern Completion, Head Rails,
Main Deck Detailing, Forecastle,
Quarterdeck,
Deck
554pages
-
Volume V - Part I
Ships boats, Constructing a Rope Walk,
Making rope, Bowsprit, Lower and upper Masts,
Yards, Shrouds and Stays, Deadeyes and
chain plates, Block making, Running rigging,
Ratline installation, Crew diorama
459 Seiten
- Volume V - Part II
Top Masts and TopGallant, Spars, Running Rigging,
Shrouds, Stays,

s, Ladder stanchions,
Gun port lids, Lanterns, Diorama settings,
and Completion of the Ship´s History,
Display suggestion and presentation,
The Junior Midshipman Program
365 Seiten
- Planset with 13 plates
10 plates in format ca. 135 x 90 cm
1 plate in format ca. 105 x 60 cm,
1 plate in format ca. 235 x 90 cm
1 plate in format ca. 120 x 90 cm
So if somebody has one or all volumes I am looking for and do not need them any more, please contact me .....