Joined

May 6, 2017
Messages

785
Points

308
Location
Hey guys due to my covid and colon cancer I dont get to mess around much but spent last 2 days working on a ships wheel. All the dimensions etc come from a cd I had for the constitution but it would prob work anywhere.
This is abt as accurate as I can to the real thing as the drawings were very detailed and all the dimensions.
there is one are that bugs me and that is the mounting of the Barrel Core to the frames. is shos a diameter of 1 1/2" for the Spindle and shows the bearings which run in a trough in the spindle but doesnt really show how it is filled in between the bearing plates. there is a lot of gap in there but I guess it doesnt really matter because of the bearings will hold it in place.
Kinda worn down and seems I forgot the Brass Plates on the front and reaf of each of the wheel pieces that hold the Spokes. Ill get around to them. this would make a cool little project for a desktop Piece at a large scale like 1/12 or 1/24 I think the entire wheel from top of spoke to top of spoke is t like 5' 2 1/4" diameter so at 1/12th scale the wheel diameter is like 5 3/16"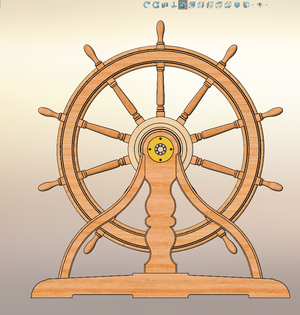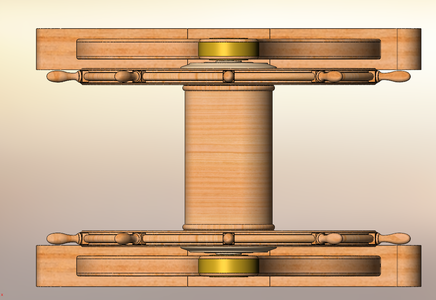 Last edited: