Hi everyone in my first building log!
At the moment I'm working on DeAgostini Soleil Royal kit and OcCres Golden Hind - I guess I will start another thread on that one in the future.
I started my work at the end of 2019. I had an idea to do the interiors, but unfortunately the design flaws demotivated me for quite a while. Then Covid pandemic came in, I had a lot of work as a teacher, time flew by and hey - it's 2021! In the meantime I read a lot about modeling, looked through some of the building logs here and on other forums gathering inspiration.
Regarding the design flaws - the aft bulkheads are definitely too low! On this scale, a man is about 2.3 cm tall, and a stern bulkhead is 1.8 cm. I don't believe the officers had to stoop so much. So my plan is to lower quarter deck a little bit and raise the other one (I don't know how is it called, the one before poopdeck) to reach at least these 2.3 cm spacing.
Let's go with the pictures:
1. LEDs - I put them under the gratings, and there will be some at the stern gallery. I'm not using red/orange candle-like lights, but warm white. I'm not that much interested in lights looking realistic - I just want my model to be lit up. Warm white is a good for highlighting color of the surroundings and it's still a little yellowish so it does not look too weird.
The beakhead bulkhead has two openings (the upper ones) which in many models are used as gunports. In the DeAgostini model these were supposed to be windows, so I decided to stick with that. I drilled a hole in the frame behind this bulkhead so that the light could come out through these windows. I will make the windows of plexiglass, I just have to find a way to matt it because I don't want this interior to be fully seen.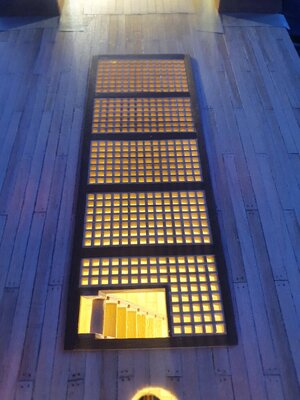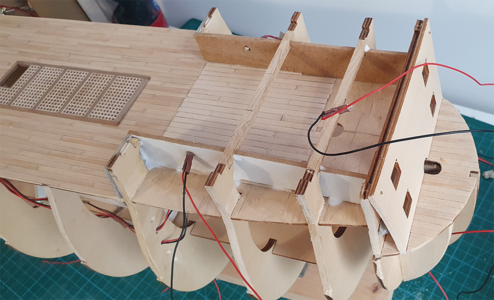 2. I didn't like the gratings provided with the kit so I replaced them and built them differently. I used Amati ones, and added walnut spacings.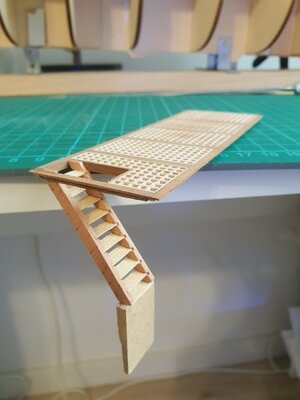 3. I will add gratings also on forecastle deck and put a capstan between them.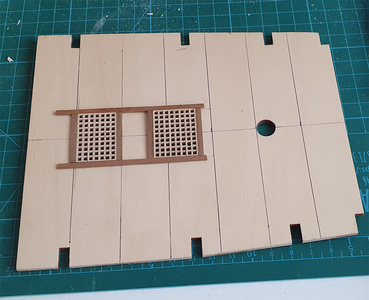 4. Bulkhead under the forecastle finished. It was suposed to be an open space, but I decided to try and make one. I took a terrible path and will never ever do it that way again. I used card as a base because, well, I have a lot of cards and modeling paper so WHY NOT? Now I know why It does not look as good as I wanted it to, but I learned a lot. I will add doors but after the work on hull planking is finished.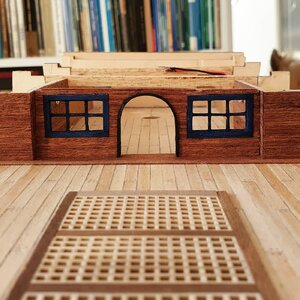 5. Meet Zdzisław
I made this guy so that I could keep track of sizes of things. I know that holes in the gratings are too big, but I decided to stick with that becouse of LEDs underneath. He is named after my friends grandpa, who passed away few weeks ago.