Joined

Aug 25, 2017
Messages

313
Points

193
Location
I have already done a review of this kit so I'll not post any pictures of the kit's contents.
St. Gabriel Master Korabel 1:72 Scale Kit Review
Whenever I build a model I like to research it's history. In this case, with some help from Uwe, St Gabriel was built in 1728 by Vitus Bering to be used in the Kamchatka expeditions, to explore the coasts of Siberia and Alaska. It's been interesting to read about these expeditions.
The first step is to fit 2 pieces to the Centre False Keel, these were glued in place and the ends filed to the correct angles.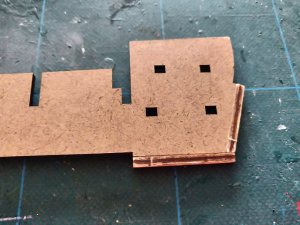 Once this was dry I then fitted the right and left False Keels to the False Centre Keel piece. I had to make sure that all 3 of the False Keels lined up and that no glue blocked any of the holes.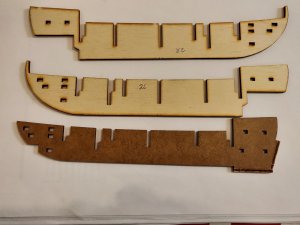 There were 4 more parts to fit to the rear of the False Keels, 2 on each side. I fitted the 2 inner pieces first and they needed to be clamped because they are made from thinner wood and they would not sit flat. The 2 outer pieces had to have a bevel filed down to the etched mark first before fitting, again these needed clamping as well.
Cheers Andy