Joined

Dec 28, 2018
Messages

25
Points

78

Hello everybody,
This is my first post for the above mentioned vessel for which I must give a small historical information as she was, the least I can say,
a very peculiar schooner:
She was laid down in 1816 on the island of Hydra at the time of the Turkish occupation (1463-1821) and launched in 1818
as a merchant vessel as the Turcs did allow Greeks to build and sail small units (not larger than brigs).
The shipowners were the brothers Emmanuel and Jacob Tombazis from Hydra. Beside being a successful merchant Jacob Tombazis
studied naval engineering and design in Portsmouth until 1816 where he bought (or copied) the lines of the freshly captured
American schooner Lynx, renamed by the British Navy Musquidobit.
When the Greeks convinced England, France and Russia to help them for freeing the country in 1820, one of the main concerns was
to create a fleet able to counter the almighty Turkish one. Naturally, all Greek shipowners joined forces to arm their vessels.
The Tombazis sailed to Italy, France and Malta aiming to arm their Terpsichore with innovative armament and we assume that
Jacob purchased 6 12 pounder guns and one huge 48 pounder gun. We do know about the 12 pounders that were acquired from
France but a mystery remains about the latter as, although duly reported in the archives of the historical Museum of Hydra with
a drawing of a French gun built in 1680, no document can confirm such a purchase.
We do have several documents confirming some of her deeds during the independance war but unfortunately, except for the
general measurements, (27,45 m hull lenght and 256 burden tons) no drawings or sail plan exist, which made for me and my fellow
modeler Georges Bouzounis (unfortunately he does not speak any other language but Greek) the task to redesign the vessel
extremely arduous.
Nevertheless we have decided to build 2 models of the same vessel. One is the shipyard model with a partially open hull and rigging without
sails and the other is a fully rigged and colored model appearing as she sailed during the war.
I already posted the only existing painting of Terpsichore in my presentation when I joined SOS but I post it here below to have
the entire subject under the same thread.
You will also see the first completed drawing of the hull belonging to the "Monographie" to be printed with the presentation of the 2 models
somewhere in 2021.
Below, also I show the first photos of the building of both models.
George and I will be glad to read your comments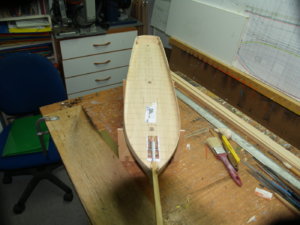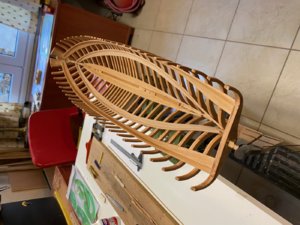 Last edited: