Administrator
Staff member
Administrator
Joined

Dec 25, 2017
Messages

22,194
Points

1,038

Location
Bomb Vessels are in moment one of the topics here in our forum, so therefore I want to introduce a very interesting book about this kind of specialist vessels.
The Bomb Vessel - Shore Bombardment Ships of the Age of Sail
by
Chris Ware
Hardcover: 111 pages
Publisher: Naval Institute Press (March 1995) / Conway´s Ship Types
Language: English
ISBN-10: 1557500711
ISBN-13: 978-1557500717
Product Dimensions: 10.8 x 10.7 x 0.6 inches
Actual Price: 45 US$ or 28 GBP
Product Dimensions: 27.5 x 27.2 x 1.5 cm
Shipping Weight: 1.00 Kg
Model of the HMS Granado 1742 (builder R A Lightley) in exhibition NMM
Blast 1757 profile and deck plans
Synopsis:
One of the first specialise warships.
The bomb vessel was a floating siege engine carrying huge shell-firing mortars for the purposes of mombarding stationary targets, such as towns, fortifications or harbour installations. In its day it was a complex and high-tech waepons system, and was widely used by the British in every conflict between 1689 and the War of 1812.
However, this is the first book to deal comprehensively with the ships, their weapons and the startegic rationale of their employment. It is divided into two hanves:
Part I is a design history tracing development from the French invention of the type in the 1680s to the final post-1815 ships. It highlights the major advances in hull form and weaponary, with extensive data tables for each purpose-built class as well as conversions from merchantmen and small warships.
Part II deals with more general aspects of the ships, including structure, rig, armament and the operation of bombs in action, conluding with a brief survey of their contribution to Polar exploration, a role for which many were converted in peacetime.
The book contains much new information, and both sections reproduce large numbers of original draughts with extended captions pointing up salient features.
Acheron 1804 fitted profile and section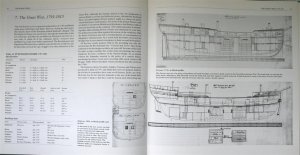 once more the beautifull model of the Granado
Contents:
Acknowledgements, Preface, Introduction
Part 1: Design History
1 ).. The First British Bomb Vessels
2 ).. Purchased Bomb Vessels 1689-99
3 ).. Bomb Vessels 1700-39
4 ).. The War of 1739-48
5 ).. The Seven Years War
6 ).. The American War of Independence
7 ).. The Great War, 1793-1815
Part 2: The Ships
8 ).. The Structure of the Bomb
9 ).. The Bomb Vessel in Action
10 ). Poles Apart
Notes, Sources, Index
Stern of the Grando model and Hecla 1813
Racehorse 1773
Resumee:
This is a one volume of the series
Conway´s Ship Types
intended to provide design histories of a range of ship types
that have never been accorded detailed attention in published works.
The subject of this volume about Bomb Vessels is bringing enough to reflect genuine historical importance,
but narrow enough to allow an in-depth study of these vessels.
This book contains a good overview of technical information on specific Bomb Vessels, including everything from the actual ship's drawings to their sailing characteristics.
Erebus and Terror 1836
Both parts of the book are illustrated chiefly from the incomparable collection of plans and draughts at the National Maritime Museum, Greenwich.
And especially for this type of Bomb Vessels a lot of detailed original drawings are available, due to the fact that these ships were not built very often and had very special construction details, so the shipwrights made at this time for all decks draughts and also interial structures as well as cross-section drawings including details of the construction are shown.
These are prime sources of documentation on most ship types and often the only objective guide to the appearance of vessels before the age of photography.
An incidental aim of this series of books is to reproduce as many as possible of these existing draughts and to list others of relevance, since the Museum can provide copies in various forms for us modelers or study purposes.
Hecla 1797, Volcano 1797, Stromboli 1797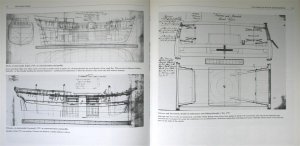 This book is a must have, if you build a model of a Bomb Vessel like the Granado, La Salamandre or Race Horse
or even when you are interested in special construction techniques of sailing vessels
An other very interesting book of the small series "
Conway´s Ship Types
",
from which I will make additional reviews for "
The First Frigates
" and "
The Heavy Frigates
"