Joined

Nov 18, 2018
Messages

71
Points

113
When I was a youngster in the '50's, the old "James Bliss" catalog contained a kit to build a naval mortar. At the time I couldn't afford anything in that catalog, but that mortar, and the sailing ships that used it, absolutely intrigued me. So it seems odd that it has taken this long for me to finally build one. Certainly, the emergence of Boudriot and Berti's monograph and plan set had a lot to do with my decision to take on this project. I started building "Salamandre" in January of 2017. The scale is 1:48.
Before I even knew what ship I was going to build next, I had to cut down a pear tree in the corner of my yard where it was threatening my neighbor's fence. All I knew was that I wanted to build an admiralty board style ship (which I'd never done before), and that this pear wood should be be ideal for such a project. The logs were left to season for 2 years while I searched for a project to build. After initial seasoning, these photos show the first step of cutting up the logs into pieces. These pieces were then left to season for a few more months during which they underwent their final warping and twisting and became stable. Then I can just square them up and began slicing off finished model building timber as needed. I do my final processing of miniature lumber with a Proxxon table saw and a Jim Byrnes thickness sander.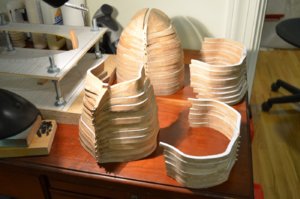 This is 6 months into the build and all frames and the bow structure are built and have undergone initial fairing. The building jig is visible to the left. Somehow I did not retain any photos of the keel assembly and the associated stem and stern post. The little dowel pins in each frame where it meets the keel were my idea. obviously no one will ever see them in the model. However they provided absolute accuracy in the thwartship direction as I was constantly inserting and removing them during the initial assembly and construction work.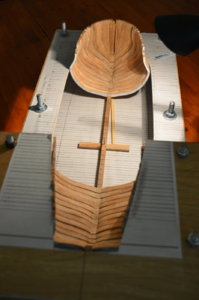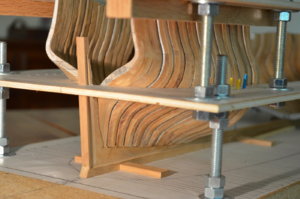 So here is a good look at the stern post and at least part of the keel. The carving of the rabbet is complete here.
One can finally see the shape of Salamander's bow at this point. I certainly wasted more than an hour or two admiring the shape of it. Oops! there is another ship in the background shadows here. I promise a full build log on that one in the near future.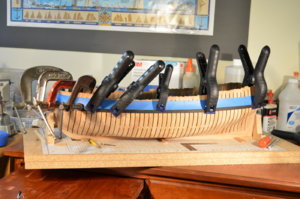 The first piece of ebony wood was a thrill. Inboard, the gun deck clamps are in as well so the structure is becoming quite stable now. The little spacers that you see at the turn of the bilge are temporary.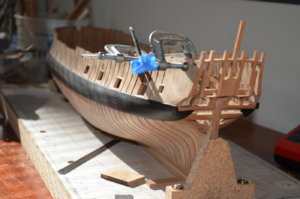 Gun ports and stern timbers. Oh yeah !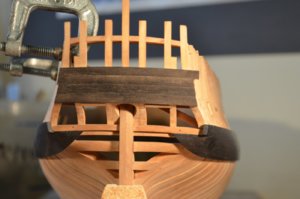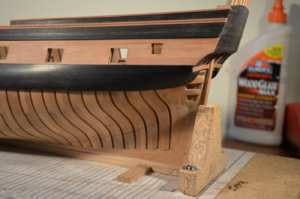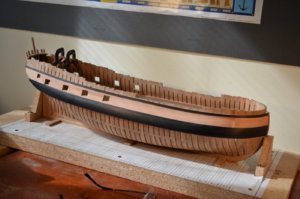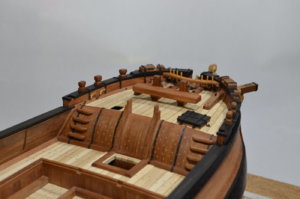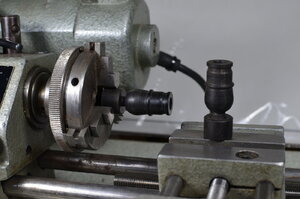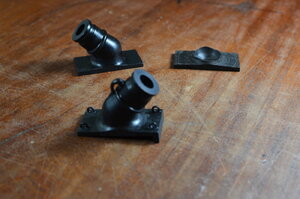 Last edited: