I thought I'd keep a log of my experiences in; being cheap, buying third rate goods, being too lazy to ask for a refund and just trying to fix up what might simply be a floating lemon.
(I'm about 2 weeks in, so the tenses may change in a few posts time.)
Straight to the point -> I asked my wife to buy me a Black Pearl kit from a dodgy drop shipping company, she did, and when it arrived it was junk in a box. It was a "copy" of the ZHL full senario, but seeing as how they copy other companies I continued on the premise that two wrongs don't make a right but so what, it's most likely some poor factory worker raiding the bins.
It arrived.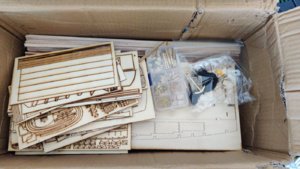 Burnt out, stinking, ripped up and half there.
Challenge accepted!