Administrator
Staff member
Administrator
Joined

Dec 25, 2017
Messages

22,710
Points

1,038

Location
Based on the extreme good quality I could see in the building log of
@OlegM
with his USS Bonhomme Richard from the same manufacturer
Hi everyone, I thought maybe it's not bad idea to share my current build - I'm doing it since January 2018 and the hull is almost comletely finished, just some final touch-ups untill I move to masting... I will post photos from the beginning, maybe several times per week. I'm not very good in...
I was convinced, that this section model will be also a very good smaler project in between, so I ordered from Max (ZHL) the kit.
The kit is available in different versions of wood and furniture / fittings. I ordered the best wood available in pear and also the add-ons, like the internal furniture plus barrels as well the handrail in boxwood.
Finally the finished built kit model can and should look like the model shown in advertisement photos - try so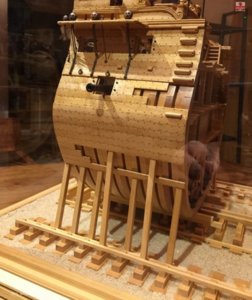 These photos, together with the great model by Oleg influenced very much my decision for the order.
A video made by ZHL showing the parts and un-boxing you can find in the topic
Last edited: