Joined

Apr 28, 2020
Messages

67
Points

68
I started a build log on this ship on Model Ship World and got some good feedback so I thought I might continue it here. If you want to see the MSM log its;
https://modelshipworld.com/topic/23...ooden-ship-model/?tab=comments#comment-684173
Many years ago (25-30?), before the advent of the internet, I bought and started construction of this cross section of the USS Constitution. It may have been following a visit to that venerable ship in Boston that I felt so inspired. I got the frame built,deck beams formed and installed, and the planking done outside and in. At that time I started to feel overwhelmed,with many questions that needed answering before I went any further. With no help readily available I packed the unfinished kit away. Someday.
I never lost my love of wooden ships and had the opportunity to visit several including the CW Morgan of Mystic, Cutty Sark in Greenwich, and the Draken Harfarge Viking ship. I still felt the tug of building a ship and when we moved to Maryland 3 years ago I started reading about The Pride of Baltimore II which I decided I'd really like to build. I figured that my long neglected Constitution would be a great practice project since I already had most of the hull built, and it only has one mast and spars, and associated rigging.
I know my work is nowhere near the caliber of some of the tremendous builders on SOS but I'm OK with that. This is more of a learning build than a showpiece and I'm learning a LOT!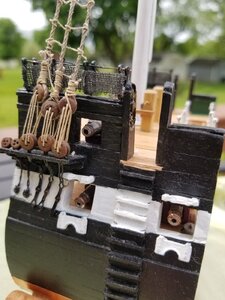 The smaller chainplates are missing from my kit so I jury rigged some with black wire. Pretty ugly, but since the model will mostly be viewed head on, they'll have to do.
One thing I've learned that building a model ship is like playing chess; you have to think many moves ahead. If I had it to do over, I wouldn't have put all the deck beams in place at once, just the lower ones. This would give me room to work on rigging the canons which I found impossible with all the beams in the way.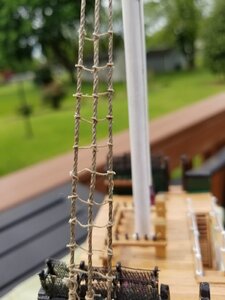 I worked on the yards while I waited for the Syren shop to re-open. I've cheated here, mounting the blocks with 28ga black wire, which I also used for the stirrups and footropes. One advantage there is that they'll hold a curve like on a real hanging footrope.
In the thinking ahead department, while doping out the running rigging I realized that there are quite a few blocks and other doodads mounted to the mast. Once I rip out the temporary standing rigging, I'll take the mast out of the hull and mount those things with the mast at a more convenient height.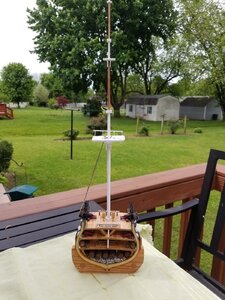 Here she is as of this morning. I know that the shrouds and ratlines are all out of whack, but I just did those for practice. One of the things that made me shelve the model years ago was the dread of rigging those with no idea at all how to go about it. I just ordered miniature rope from Syren in dark brown and plan to rip out these temporary ones and do them up more evenly with the new rope.
I'm open to any and all suggestions and comments. Thanks for looking!