Moderator
Staff member
Moderator
Joined

Jul 30, 2017
Messages

1,612
Points

478

Location
G'day all
Well what can I say about this kit that hasn't been said before. Well here it goes, I will try to do an unbiased description,
as I think this kit is amazing.
The negative sides in this kit
are very few, compare to others manufacturers of kits
. I have only two.
The first one is only if you are planning to put the complete masks and full rigging.
But you are only do the hull with cut down masks, the kit's supply bolts are adequate.
I'm referring to the keel's stand support bracket.
The kit's supplied brackets are 5 mm brass.
I think this far too inappropriate if you only want to hold the fully rigged model using the keel's stands.
The fully rigged model with stand about 1.3 meters high, and I'm changing these brackets with 2 x 12 galvanized bolts. 1
This might be an overkill, but I would rather be completely safe than sorry.
The second point is regarding the incedable carvings that are included in the kit for the port and starboard sides. I was advised by two fellow members, Neptune and Maarten,
(both of them are far more advance in their own builds of the RC,)
to expand the false keel by 15 mm. They advice me to do this, so the carvings will have more space, as in some areas, it is too tight for the carvings, (both had to alter the carvings slightly to compensate). The builder in the help video had a similar problem.
That's is all the negative that I can find regarding this kit.
Now the positive side. There are so numerous, it would be impossible to put them all here. Here are only a few.
All the supplies timbers etc. are
first quality and these timber are equal or better than any other high end kits
available.
I'm using
over 30 years of experiences
, comparing and using other brands. The plywood bulkheads are again the highest quality and
this is the first kit that I have brought, that showed a laser score line to where each bulkhead have to be beveled.
These score lines are very, very accurate.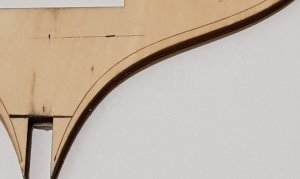 A close up of the scorched line to show the beveled edge. Every bulkhead has this, even the ones in midship where there's only a minute difference. I only discovered this when I scanned the bulkheads into my computer and it was only visible at 300 percent enlargement
.
The deck furnitures
are out of this world
. Everything is included, this is one huge advantage over this kit compare to all the other kits that I have used, over the years. Not only they are supplied,
the amount of details on these parts are far superior than anything else on the marke
t,
in my opinion.
An example of the decking furnishings, they are still in the protective packaging ready for me when I'll use them.
The boxwood carvings are all in an exceptional quality.
There is of course work to be done on these carvings if you want to go the extra distance
. They are ok, if you put them as is and most people wouldn't notice the difference.
But this is one of the parts that will make your model your own.
Is is part of the Transom carving, they are as per the kit, unedited in any way.
There is always, in every kit that you build, there be areas that may want to change it to add on,
but the basic kit is good enough to put together as per the instructions
. But if you are like me and many more modelshiprights, the fun part in this hobby, is to put your own mark on your model.
This kit allows for what ever you want to do.
You may think that this model is like putting together a '
jig saw
', but doing the only basic parts, I would advice this kit to be attempted by the experience model builders, and
it is definitely not for anyone who is new to this hobby.
I, personally is going to the 'extreme' as my wife puts it. I'm adding the interior view of the king's cabin as well the crew quarters. The planning stage in this process has taken me about 6 months of work on the computer even before starting on the build. There are many problems that I have to work out even before starting. Every bulkhead had to be altered to suit what I want. You may say it's like a scratch build job thst I'm doing.
Using this kit has saved me hundreds and hundreds of hours and I am definitely pleased to have this kit
to work with.
I've bought the masks and rigging extra and the quality is also breathtaking. The masks and yards are pre-shaped and all the fittings are, if not the highest, but definitely far superior to any other high end kits available.
This alone is amazing feature that makes ZHL kits far advance than to any thing else that I have used.
Oh... there's one other positive amplitude to this kit.
There's is a kit within the main kit, that I almost forgot to mentioned. It's the incredible ship's boat.
There is enough in this mini kit to make you busy for week and weeks.
The unopened parts for this mini kit.and after a lot of work for weeks you will get this...
This is the model made by Neptune of the mini kit of the ship's boat.
Hoped that you have enjoyed my (hopefully not to biased) report on this kit. One thing for certain, my next kit will be a ZHL's creation!
Happymodeling
Greg