Joined

Dec 28, 2020
Messages

240
Points

113
Location
I hope someone will be interested in another build log of the BP, this will be my second wooden ship model the first was the Rattlesnake by Mamoli nearly 30 years ago.
This is the first time that I have attempted a build log so if there is anymore information required please advise. This build was started in October and I am currently working on the second planking. I will start the log from the beginning and try to point out how I have done things differently. The build logs on SoS have been a big help thanks to everyone who has posted one.
When l joined the keel together there was a 7mm bow which meant l needed to keep the keel straight during assembly.
I used two pieces of 6mm timber that held the keel straight while the frames where fitted.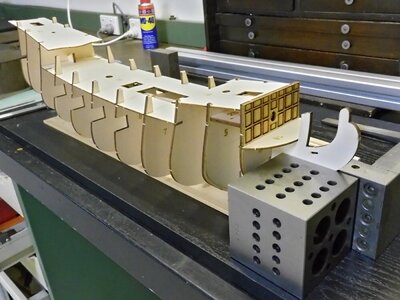 I did a lot of dry fitting to see how everything went together. This kit is made to a very high standard when the decks where fitted the bulkheads where all square to the keel, only one needed a little bit of material removed to fit.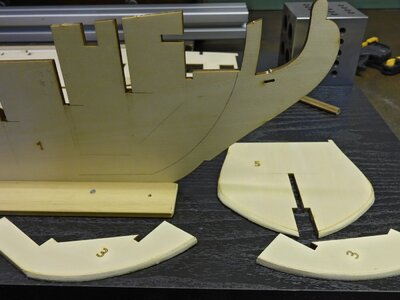 I have marked the keel to see where the parts go this will be a reference for glueing. The pencil lines on top of the slots in the keel and bulkheads will show the if the parts are fully engaged. File the edges of parts 3 & 5 but don't go all the way to the line.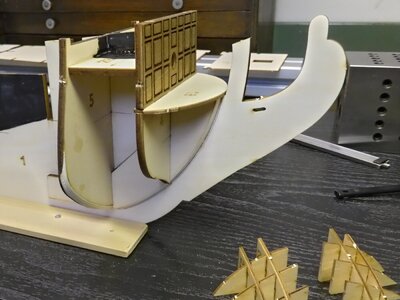 I found the best way to assemble these parts was to do them all together, bulkhead 6 and the deck was dry fitted to keep everything square. I also checked with a square all good, you can see the pencil marks on the keel and frame 5 show it is down fully. Before assembly I used a walnut stain on the top part of frame 4 and painted black under the grates.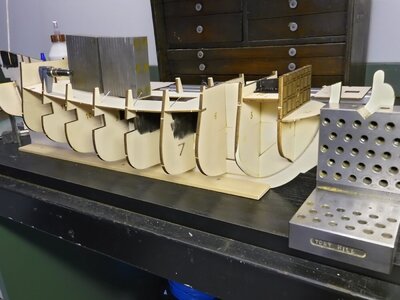 After the glue had set I glued frames 7-14 again dry fitting frame 6 and the decks to keep everything in place and square, now is a good time to fit the deck supports on frame 12. Finally frame 6 and the main deck can be fitted, this was the easiest way I found to do the tabs on the deck that fit into frame 6.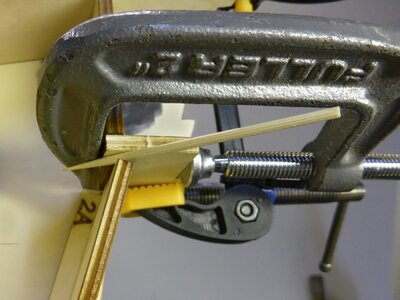 The other frames at the aft needed a little bit of ajustment for the angles but went together well. The toothpicks are used because I could not get a clamp where I needed it.
When all the bulkheads and main deck where fitted the bow on the keel was down to 2 mm if I clamp the keel straight during planking I will be able to fix this.
Next part I'll go over how I did the LEDs