Joined

Sep 17, 2018
Messages

390
Points

278
Location
Hello friends, I had a dream...
a Christmas Elf was knocking on my workshop's door this night.
He remembered me to this ugly fact I could not ignore any longer and that is the gap where my wife's present has to be. (As some of you may know she is interestested in modelship building, too. And as a gifted handcrafting person she likes to build her models very well - she works on a GK modellbau Starters package of a working boat from the Hamburg arbourof the 20th and likes baroque and rokkoko decoration very much. And incorporates decor elements in her balkony garden as much as possible and ballanced to the eye.)
So I will build her present hidden in here (as she still is going to learn English and hasn't entered this forum).
What do I want to credence to her?
The Plate XLIII in Frederik Hendrik af Chapman's ARCHITECTURA NAVALIS MERCATORIA shows as N°1 a "Fregat" of 76ft with luxurious rokkoko decoration - listed as a pleasure vessel. And she likes it. But I am unable to get the hole ship build in time (due to the figurehead!!!).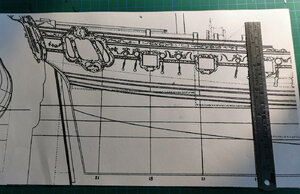 I think about showing the last four frames due to this imense pressure of time. As I have got to show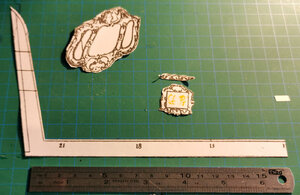 -four gunports
-the side galery windows
-the transom
it is a plenty to do but nothing unimpossible.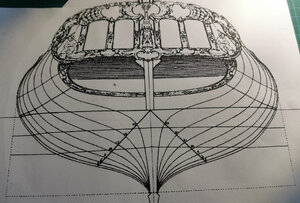 The transom will be made from a mixture of materials and I'm still thinking about the inner architecture, combination of colours and the carved and painted decoration. Neither the cannons will not be shown nor the cabin's furnitures. But the windows are so big that I couldn't make them blind. (And she loves dollhouses so much.)
As I am in a bit of a hurry I glued the centerboard
on 6mm plywood as the keel is 8mm in breath an 11mm high.
The elfes have decided to hide this project behind AGATE and the BLANDFORD cross section. So cutting out some more frames will not attach her attention. The decor isn't that easy but manageable in this 1/2 a year I will have time to work on it in my ship yard.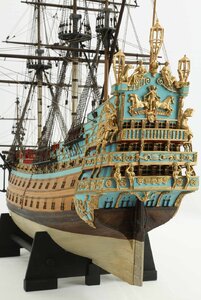 As she likes this decorational colouring of SOLEIL ROYAL kit the hull will be painted underwater white, blank wood and the decor in a more greenish turkis with goldenocker additives. Due to the identical scale as BLENDFORS CS I can hide this bits and pices in the workshop. This was the reason for this scale.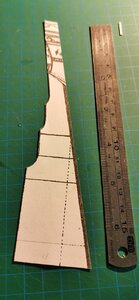 There are a plenty of details undefined as the wooden combination of the rudder. Or the decks furniture. I think about showing the pillar by avoiding the steering weel and some of the other stuff.
Hopefully I can build the showcase in time but I am really not shure.
So I hope for your secrecy...
Chris
Last edited: