Hey hey!
Title says it all. I design muzzleloading nerf stuff, and after building a printed
french 12 pounder
I wanted to do a "quick" modification to use the same cannon on a naval carriage. The goal is to try and balance making a fun toy, an historical model, and an educational exercise. It's all FDM printed, which is fine for 1/8th scale!
At 1/8th scale, and printed in plastic, it's large enough (but cheap enough!) that you can actually play with it, and the goal is to be able to not just shoot, but let you play with the REALLY fun parts - rigging, gun laying extc!
The scale is... rough. In addition to simply using the "wrong" cannon as a model, the cannon's dimensions are slightly warped to accomodate the internals of the nerf mechanism. I've used the HMS Victory's 12 pounder carriages as a starting point, but it is slightly stretched to accomodate the warped dimensions, as well as numerous compromises to keep it as a snap fit model (Yes, that is cowardice, but the last cannon I made for this scale with assembly accuracy had 100+ parts and took a week to print. I'm taking a break!)
Attached is a render, as well as an earlier prototype print. The plan is to print at least one using wood-fill and iron-fill PLA, polished and buffed, which I'm hoping will look spectacular!
Primary goals:
- Carriage & cannon as a downloadable file set
- Cannon shoots nerf darts at "combat range" - at this scale, broadside distance is like 10-20 metres, which it already makes handily!
- Carriage is "functional" e.g. can be used with all relevant rigging, wedge actually controls elevation, trunnion hitches can be opened extc
Secondary goals:
- Appropriate accessories, rather than just a reused ram rod and worm from my last model...
- Printed scale tackle block for 5mm ropes, which will be needed for...
- Gun deck ("Functional", e.g. with working gun port, rigging, shot rack)
- Printed cannon ammo for the shot racks (
I already made the chainshot... it scares me
)
Tertiary:
- Printable target (e.g. simple mast with rigging?). Because you'd want to actually see if the chain shot works as advertised right?
- Update cannon model to more closely match an english 12 pounder at this scale - slightly thicker and shorter.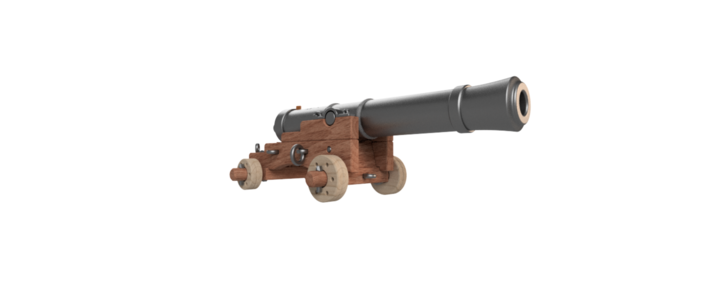 -