Administrative
Staff member
Administrative
Joined

Nov 3, 2018
Messages

4,296
Points

688

Location
WARNING!!!!! Do NOT BUY this kit at any circumstances (unless you are wealthy and don't care about your money).
But honestly, this is not about the cost, this is about the quality!! As a mature (we don't say an old) as I am, I should question myself 150pcs for $12.00 - it is too good to be true. Nevertheless, a was attracted by the sizes and more of 0.1 increments hard to find.
...and the box arrived nicely presented: each size of the drill bit has its own storage compartment, sounds nice... but that was it, I took the smallest bit and looked at it, it was flat at the end (nor sharpening at all). I took another drill, the same story. I took a different size...a different drill bit - no difference. All smallest sizes are the same. But the larger size, no big difference: no sharpening - they have different angles at the center. All of them are a piece of junk!
Wait..., if I clean the rust I might use them as mandrels when making a ring hoops
Here I use my magnifying lens to show the 0.4 drill bit
a larger drill bits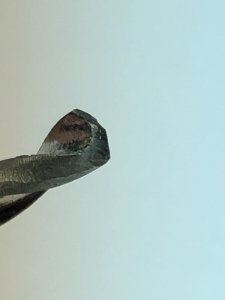 Bottom line! avoid buying it at any cost. They are nothing to do with drill bits.