Joined

Feb 14, 2021
Messages

30
Points

48

Location
Here is my second lake freighter in progress before I found this site. The following is taken from boaternerd.com and gives a brief run down on this new class of bulk carrier. Picture is actually taken along the Detroit River where I live 2 blocks from.
The Algoma Central Corporation has been engaged in an ambitious fleet renewal program. The fleet has ordered five new ships capable of Great Lakes service and will manage two others of this Equinox Class for the Canadian Wheat Board. All are being built overseas in China.
Algoma Equinox is the first of the new Equinox Class of Great Lakes freighters built for the Algoma Central Corporation. It was constructed by Nantong Mingde Heavy Industries Stock Co. of Nantong City, China. The 740 foot long by 78 foot wide gearless bulk carrier was launched on December 24, 2012, and sailed for Canada on October 1, 2013.
This vessel, and its sister-ships, operate with a 45 percent improved energy efficiency and can carry 20 percent more cargo. It also has a much lower fuel consumption with the benefit of a 97 percent removal of sulphur oxide emissions. Highly automated, the ship can operate with as few as 18 sailors.
After crossing the Pacific and passing through the Panama Canal, Algoma Equinox loaded iron ore while inbound at Port Cartier, Quebec. The ship was upbound through the Seaway for the first time on December 3, 2013, and headed to Hamilton to unload at Arcelor Mittal (Dofasco). It then sailed to Superior, and loaded ore for Cliffs Natural Resources in Quebec City.
The ship spent its initial winter in Toronto and then received the top hat in a ceremony at Lock 3, St. Catharines, Ont., as the first ship of the 2014 navigation season to use the Welland Canal. After being part of the battle with late winter ice, Algoma Equinox headed to Lake Superior in convoy and with ice-breaker assistance. But as the ice melted, the ship soon settled in on the Seaway ore and grain trades and will hopefully be a regular trader on the inland seas for many years to come.
Here is the actual ship and am hoping to come up with a reasonable scale model...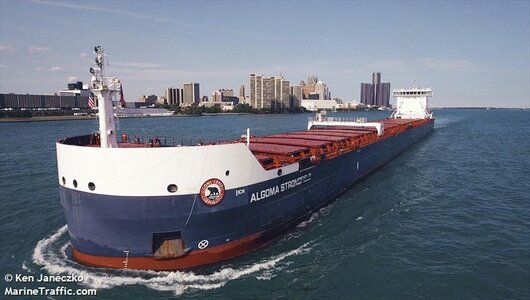 Last edited: