Joined

Jan 13, 2018
Messages

333
Points

268
Location
A friend of mine who gave up the hobby gave me some card models from the Shipyard brand, (Polland or Czech Republic, I am not sure), including some very sophisticated ones, the Victory, the Bellona and a lot more.
I have no interest in card models, it is not my type of hobby, although I have seen some wonderful models made from card and paper with an unbelievable quality, matching what best one can make with wood. But I reckon it is far from my capabilities or patience and I was never tempted to try my hand on that material.
Long ago I had the idea of using those models as patterns for making some planes from plasticard. Plasticard is very similar to card and it seemed possible to transfer the patterns from card to the plastic. Somehow I never tried it, so the idea died.
But now, in the intervals of my "Prince of Neuchâtel" I began looking at the paper models with another eyes and I had the crazy idea that it could be used as patterns or jigs to a wood model. Why not?
I know that I have these crazy ideas only to discover that someone(s) had had the same ideas first but it only shows that modelling imagination is universal.
So I decided to give it a try, but instead of the large ang glamorous ships that I had, I choose the humble "Niña", since one of the books was exactly the "Santa Maria" and the "Ninã"
The model has a false keel, bulkheads and a lot of slits to make the assembly strong and align all the components. The Niña was at a scale of 1/96 and most of the parts should be glued to 1mm card, so multiplying the dimentions by 1,5 I could end with a 1/64 model and could use 1,5mm ply, that I have in quantity.
And why that ship? Well, it is small, simple (well...) and it appeared easier than the big guys.
Just to show what is all about, here are two pictures of the book.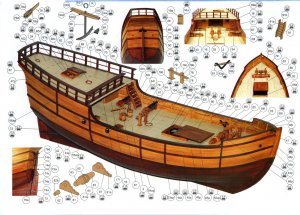 All of this, of course is supposed to be paper, or better, card.
So, time for cutting patterns, scrall saw, 1,5mm ply, glue the patterns and let's see what comes out of that.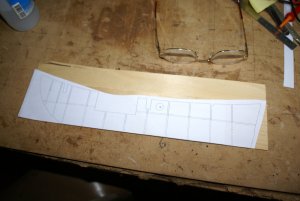 Tha band saw was very useful for all those slits necessary not only to join keel and bulkheads, but also the central centering pieces that give more rigidity and beat alignment to the whole.
Maybe I could have passes without those pieces, but working with so thin ply I opted for cutting and using them. My only concern was the alignment of all those pieces.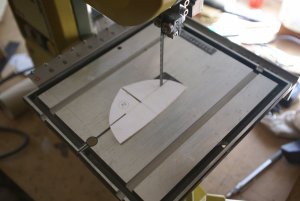 The first trials of joining the pieces was promising, it all fitted correctly.
Time for the aligning pieces, but that is a story to be told tomorrow.
Regards
JL