Joined

Jan 20, 2019
Messages

78
Points

153
Location
Hello everybody,
I start the construction report a little late, but I hope it is worth presenting.
To take a break from the "The Seven Provinces" I started building Armed Virginia Sloop 1768.
They were small units that evolved from the so-called Bermuda-Jamaica-Chasepeake Sloops (circa 1740), used for privateer, smuggling or as fast tenders.
Over the years, several studies have been developed (H.I. Chapelle, John F. Millar, Smithsonian Institution, F.H.Chapman) based on different sources and the construction of similar units. The finished wooden set was released by Model Shipways.
They were single-masted vessels, very fast, with sails similar to cutters. They usually had low bulwarks and a stern cabin with a rounded roof.
Total length not more than 60 feet, width 18 feet. They usually carried several light (3-pound) guns and half-pound swivel guns. The colors were typical for such vessels, ie yellow ocher, red inner surfaces of the bulwarks, "white stuff" in the underwater part, black rails and side reinforcements.
Without extending my graphomaniac art, the first few photos.
The hull structure is made of 1 mm cardboard, the stern with windows and the "false deck" with 0.5 mm. I did not give any additional waterline reinforcements, because the 1: 100 hull is only 18 cm long.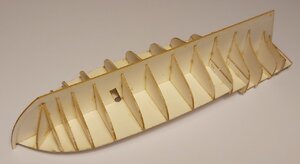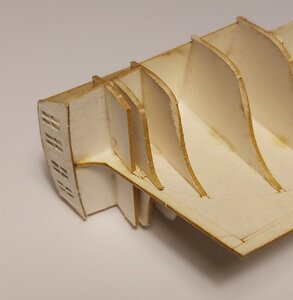 ...and on the hull prepared in this way, I glued the final planks. Each stripe consists of two planks, so there weren't so many of them and it turned out pretty well. Of course, adding a putty, more heart, patience and experience would have turned out nicer, but there are no "slim cow ribs", so the test can be considered successful.

To cover the bulwarks inside, I had a choice to "fight" with 1 mm cardboard or just stick spacer bars.
The second solution is definitely more convenient, because bending 1 mm cardboard causes it to "loosen" and thus it becomes thicker and even small errors can make holes (and these are many) not to fit together.
By sticking only the gun port frames and adding a few bars, I did not have to worry about a whole pile of small holes, because they fit, and even if they did not fit, you still can't see it.
A little precision was needed only when gluing the top part of the gun port frames - there is only 0.5 mm there, so you had to cut a 1 mm wide stripe from the cardboard of 0,5 mm thick and glue it horizontally.

Then I added a "thicker" board (a spirketting ?) and a waterway. I made it red (because I liked it in one report I found on internet) but it might as well be in the color of the deck.
It remained to glue the wales, reinforcements on the sides and the stern and handrails. I missed the color of these narrow "cobalt blue" stripes a bit - it is too dark and does not stand out enough against the black reinforcements. It was printed in blue, but in order to simplify the work, I painted it with this dark color. I will not tear off these bars or hair from my head in despair (because I don't have much hair).
The time has come to equip the deck and add artillery.
It's hard to write something original about gluing the simplest geometric solids, so just a few comments and observations.
- the steering wheel was cut with a laser, as well as greting;
- gun carriages are 1 cm long, I equipped them with 1.5 mm blocks and used UNI-Thread 6/0 W fishing threads for rigging them.
I'll hang the anchors after making the standing rigging.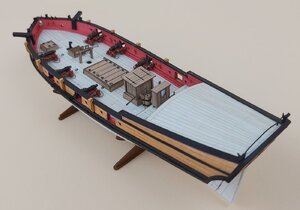 I'm in the process of finishing standing rigging, so I'll update soon
Greetings
Tomek