Administrator
Staff member
Administrator
Joined

Dec 25, 2017
Messages

22,194
Points

1,038

Location
Building a Miniature Navy Board Model
by Philip Reed
Hardcover: 140 pages
Publisher: Naval Institute Press (May 1, 2009)
Language: English
ISBN-10: 1591140927
ISBN-13: 978-1591140924
Product Dimensions: 7.5 x 0.8 x 9.5 inches
Shipping Weight: 1.6 pounds
Synopsis:
This latest step-by-step volume from Phil Reed tackles what, for many, are regarded as the ultimate expression of the ship model maker's art, the Navy Board model. These beautiful early eighteenth-century works of art are well represented in the major maritime museums both here and in the States as well as in private collections and here the author deals with the construction of a miniature 1/192 scale model of the Royal George of 1715, in which all the conventions of Navy Board framing and planking are demonstrated .

He takes us through every stage of the work with the aid of nearly 400 photographs, each one accompanied by detailed text. Methods of hull and deck framing, internal and external planking, the construction of the complex stern with its array of galleries doors and windows, are all covered; the rendering of the multitude of decorative carvings on the figurehead, stern and broadside is also demonstrated. 

At the end of the book there is a short section showing his model of Syren, which demonstrates how the techniques used to frame Royal George could be adapted for ships of a later date, using single and double frames closer to full-size practice.
Contents:
- Foreword & Introduction
- Building the Royal George 1715 (page 15 to 126)
- Making the Case (page 127 to 135)
- Model Gallery (page 136 to 141)
- Lines & Body Plans (page 142)
- Deck Plans & Further Research (page 143)
- Appendices, Book Tips/ References (page 144)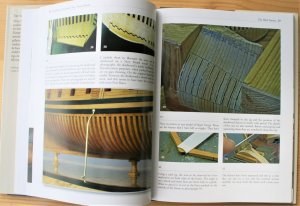 Review:
Step by step Philip Reed is showing the reader, how he is constructing his Neavy Board Model of the HMS Royal George of the year 1715 in the miniature scale of 1:192. Through the complete book he is using colored photos. After a short introduction of the historical basis and the necessary research he is comprehensive showing and step by step the development and construction of his model. Numerous photos and clear and complete explanations are helping to follow his execution of this fabulous model.
Reed holds two skills, obviously a magnificent and professional modeller, but he also has the ability to make a navy Board Model achievable.
In addition he is showing us several modeling methods, using jigs and tools etc. very understandable, which are useful for this small scale, but which can also easily adjusted for bigger scales. It is a very detailed and beautiful building log of his HMS Royal George.
Especially for this price, the book is available now, a very good source to see how a specialist is building such a model - highly recommended, especially for friends of POF and Neavy Board models.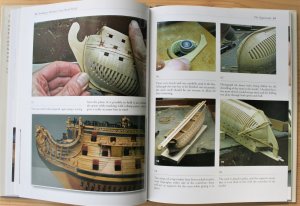 More Look Inside photos in the next post