Administrator
Staff member
Administrator
Joined

Dec 25, 2017
Messages

18,325
Points

938

Location
Book Review:
MODELES HISTORIQUES au musée de la marine - Volume 2
by Jean Boudriot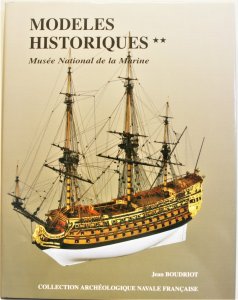 The book has 288 pages on the collections of the Museum of the Navy.
359 color photographs.
Format 24 * 31 cm
Only available in French language – price actual via ancre 95 Euro
https://ancre.fr/en/basic-books/39-modeles-historiques-au-musee-de-la-marine-tome-2.html
Synopsis:
We finally have the satisfaction of being able to offer you the second volume of "Historical Models". We have selected thirteen models from the museum's collections, presenting them in chronological order, among them a model of galley, the Navy of the Restoration period is illustrated by several models, including that of the famous Valmy.
We kept the presentation of the first volume, this was essential, the two books constituting a set.
The photographic examination of the models is carried out by general views, followed by numerous detailed views allowing a real approach "closer" to these models. Historical data concerning each model preceding the commented shots with the aim of explaining.
These two volumes must make better known the richness of the collections of our great Naval Museum as well as the French Naval Archeology Collection 1650-1850. We address to erudite amateurs practicing or not the art of the model making, appreciating the aesthetic and historical values of the models of our Museum.
Let us be aware of the importance of this very precious and fragile heritage, the only testimony of a disappeared navy.
The Le Louis XV - 1700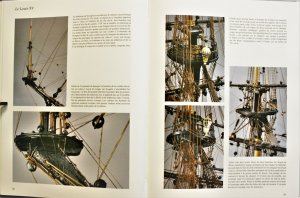 Contents:
COMPOSITION DE L'OUVRAGE, AVANT PROPOS, A NOS LECTEURS
The Models
LE LOUIS XV
- Vaisseau trois-ponts - 1700 (32 photos)
LA MINERVE
- Le monde des Galères - 1746 (27 photos)
LE SINGE
- Chebec de 20 canons - 1762 (24 photos)
L'EGYPTIENNE
- Frégate de 24 - 1798 (20 photos)
LA RENOMMÉE
- Frégate de 18 - 1806 (30 photos)
LE CYGNE
- Brick de 16 - 1806 (17 photos)
LA NORMANDE
- Flûte de 800 tonneaux - 1811 (29photos)
LA BELLE-POULE
- Frégate de 60 bouches à feu - 1822 (37 photos)
LA TOULONNAISE
- Goélette de 6 caronades - 1823 (18 photos)
LE TAGE
- Vaisseau de 100 - 1824 (31 photos)
L'ALCESTE
- Frégate de 52 bouches à feu - 1828 (26 photos)
LE COTRE
- 14 caronades de 12 - 1830 (20 photos)
LE VALMY
- Vaisseau de 120 - 1836 (42 photos)
GLOSSAIRE and NOTICES TECHNIQUES
La Minerve
- 1746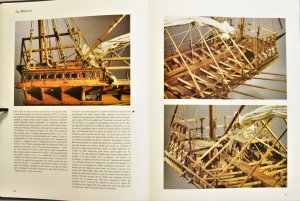 Review:
although this book is only available in french language the comments I made for the first Volume
(Review here:
HISTORIC SHIP MODELS - The Musée de la Marine Collection – (Volume 1))
can be completely repeated.
Especially if you want to build one of the ships, for which ancre is offering also a planset
These are:
LA RENOMMÉE -
Frégate de 18 - 1806
https://ancre.fr/en/monograph/20-monographie-de-la-renommee-fregate-de-8-1744.html
and
LE CYGNE
- Brick de 16 - 1806
https://ancre.fr/en/monograph/35-monographie-du-cygne-brick-1806.html
and
LA BELLE-POULE -
Frégate de 60 bouches à feu - 1822 (37 photos)
https://ancre.fr/en/monograph/17-la-belle-poule-fregate-1765.html
Le Singe
1762
on the right
24 gun frigate L'EGYPTIENNE - 1798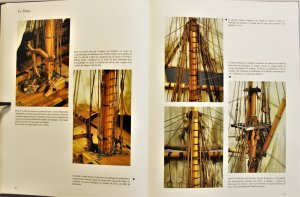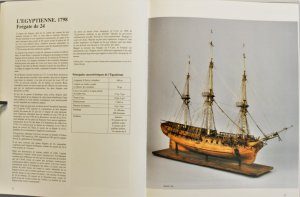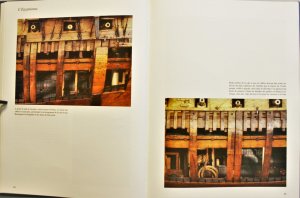 18 gun frigate
LA RENOMMÉE
1806
-
planset available by ancre is about the La Renommee of 1744 and not this one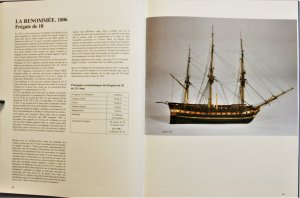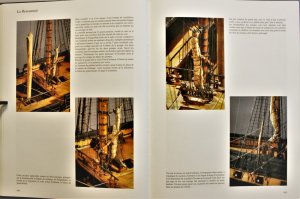 brig
Le Cygne
1806
- planset available by ancre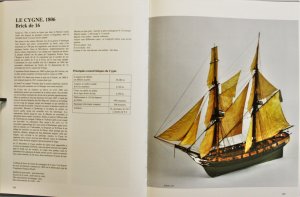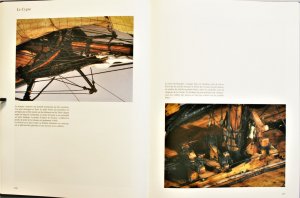 More look inside photos you can find in the following post
Last edited: