Administrator
Staff member
Administrator
Joined

Dec 25, 2017
Messages

22,194
Points

1,038

Location
Book Review
The First Frigates: Nine-Pounder and Twelve-Pounder Frigates, 1748-1815
Conway's Ship Types
by Robert Gardiner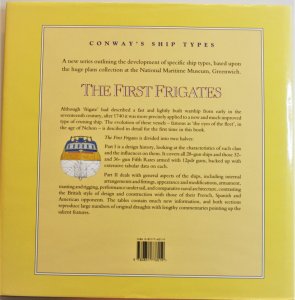 Hardcover: 128 pages
Publisher: Conway Maritime Press Ltd; First Edition edition (December 31, 1992)
Language: English
Product Dimensions: 7 x 7.1 x 0.4 inches
Shipping Weight: 2.6 pounds
Synopsis:
Although "frigate" had described a fast and lightly built warship from early in the seventeenth century, after 1740 it was more precisely applied to a new and much improved type of cruising ship. The evolution of these vessels – famous as "the eyes of the fleet", in the age of Nelson – is described in detail for the first time in this book.
The First Frigates is devided into two halves:
Part I
is a design history, looking at the characteristics of each class and the influences on them. It covers all 28-gun ships and those 32-gun and 36-gun Fifth Rates armed with 12pdr guns, backed up with extensive tabular data on each.
Part II
deals with general aspects of the ships, including internal arrangements and fittings, appearance and modifications, armament, masting and rigging, performance under sail, and comparative naval architecture, contrasting the British style of design and construction with those of their French, Spanish and American opponents. The tables contain much new information, and both sections reproduce large numbers of original draughts with lengthy commentaries pointing up the salient features.
left side: HMS Phoenix 1743 sheer and profile draught, 24-gun sixth Rate
right side: list of captured ships 1744-1748, HMS Unicorn and HMS Lyme 1748
Contents:
PART I: DESIGN HISTORY
(page 7 to 59)
The State of Cruiser Design 1740
HMS Unicorn and HMS Lyme 1748
The First 32s and 36s 1756
The Improved Models 1758-1763
The Second Generation 1773-1785
The Last 12pdr Ships
PART II: THE SHIPS
(page 60 to 117)
Internal Arrangements and Fittings
Appearance and Modifications
Armament
Masting and Rigging
Performance
Comparative Naval Architecture
left side: Unicorn-class 28-gun sixth rate specification and building data
right side: progile draught of merchant-built 28 1757, sheer and profile for Argos of Unicorn class, HMS Guadeloupe 1763, HMS Hind 1785
Review:
In principle I can state the same like in his other book
The Heavy Frigate: 18-pounder Frigates, Volume I, 1778-1800
which was also published in Conway´s Ship Types.
It is very good illustrated with draughts from the National Maritime Museum's Admiralty plans collection. So if you are interested in the different classes of this type of ship and the evolution during the decades of this time period -
highly recommended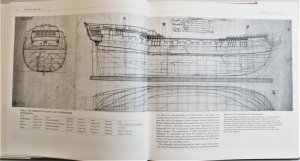 left side: Southampton clss 1756, Hermione french 12pdr frigate
right side: HMS Boston 1762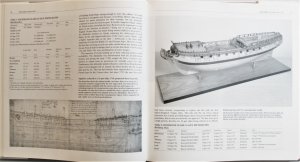 left side: HMS Sapphire 1756, HMS Richmond class 1756
right side: HMS Brilliant 1757, HMS Alarm 1758, HMS Tweed 1759
left side: Mermaid class, HMS Danae ex-French 1759, Enterprise class 1770 design hseer draught
right side: Captured ships 1756-1763, list of Enterprise class 28-gun sixth Rate
left side: Enterprise class building data, HMS Enterprize 1770, HMS Circe 1785
right side: HMS Mermaid 1784, HMS Andromeda 1784
HMS Triton 1796 design profile draught and contemporary model, Triton class 32-gun Fifth Rate specification and building data, Circe class 1804
More Look Inside photos you can find in next post....