Administrator
Staff member
Administrator
Joined

Dec 25, 2017
Messages

17,585
Points

938

Location
The Sailing Navy List

:
All the Ships of the Royal Navy - Built, Purchased and Captured, 1688-1860
(Conway's History of Sail)
by David Lyon
Hardcover: 367 pages
Publisher: Conway Maritime Press (January 1, 1993)
Language: English
ISBN-10: 0851776175
ISBN-13: 978-0851776170
Package Dimensions: 11.8 x 10 x 1.3 inches
Shipping Weight: 4.4 pounds
Synopsis:
The first complete and authoritative list of ships, derived from official sources
Organised by type and class. Contains details of dimensions, tonnage, armament, building data and fates.
Includes prizes, purchases, coastguard and custom vessels, yard craft and even hulks.
Chapter introductions outline design development.
Illustrated with contemporary draughts, paintings and models.
Complete ship name index.
Innumerable books have been devoted to almost every aspect of the Royal Navy and its achievements in the age of sail, but there is no single, comprehensive listing of its ships and their essential characteristics. The Sailing Navy List, a major work of scholarship and the fruit of nearly twenty years' work, more than fulfils this primary need, since it not only includes basic specifications, building data and fates, but organises the material into types and classes with notes on design and designer. Typical entries include dimensions, tonnage, armament, builder, construction dates and detailed notes on the fates of individual vessels, with short narrative introductions outlining the principal influences on development. The book is broken down into distinct periods, further subdivided into the major ship types, which together amount to a skeletal history of Royal Navy warship developments. The Sailing Navy List includes prizes, purchases, coastguard and customs vessels, yard craft and even hulks. A complete ship name index is included, and chapter introductions outline design developments and further historical data. The enormous task of research for this book involved the collation of data from many primary, but often conflicting, sources to guarantee a high degree of uniformity and authority. The Sailing Navy List is an accurate and exhaustive guide to the sailing vessels of the Royal Navy, the ultimate reference book for the age of the sailing warship.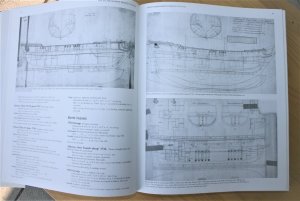 Content:
Introduction
SHIPS IN SERVICE IN 1688
(page 11 to 15)
1 Ships built for the Royal Navy
2 Prizes and Purchases
PART I - SHIPS BUILT FOR THE ROYAL NAVY
(page 16 to 185)
1 Before the Establishments 1689 - 1705
2 The Preliminary Establishment 1706 - 1718
3 The Establishment Period 1719 - 1745
4 The Slade Era 1745 - 1785
5 Henslow to Seppings 1786 - 1830
6 Symonds and After 1830 - 1860
PART II PRIZES AND PURCHASES
(page 186 to 296)
1 King William´s War 1689 - 1697
2 The War of Spanish Succession 1701 - 1713
3 The Wars of Jenkins´ Ear & of the Austrian Succession 1739 - 1748
4 The Seven Years´ War 1756 - 1763
5 The American War of Independence 1776 - 1783
6 The French Revolutionary War 1793 - 1801
7 The Napoleonic War 1802 - 1815
8 The Period After 1815
PART III AUXILIARIES & ANCILLARIES
(page 297 to 350)
1 Vessels on the Canadian Great Lakes
2 Royal and Other Yachts
3 Conversions and Revlassifications
4 Yard Craft
5 Coastguard and Custom Vessels
6 Hulks
Review and a liitle comparison to Rif Winfield books:
All the basic information is here and there are numerous excellent contemporary profile plans. These drawings are the big advantage Lyon has over Winfield books, who relies on general illustrations and paintings of only a few of the ships covered. The text of 'The Sailing Navy List' gives basic dimensions, armament and a brief resume of career. As in most works that try to cover a huge subject there is little room for detail- and some readers will probably be more interested in the careers of the more significant ships, but the detail supplied about them is no more than for the average sloop or brig.
Rif Winfield has more recently covered the same subject over a greater time- span (1603- 1862) only with rather more detail in a four volume series: these are currently available at about 50 Euro each, whereas you will now have to pay around 100 to 150 Euro for Mr Lyons book.
Lyon did also cover the later period in
"
The Sail and Steam Navy List: All the Ships of the Royal Navy, 1815-1889"
which is currently a bit cheaper to buy, since it is still available new (actually Winfield completed that book after Lyon died and he gives full credit to Lyon as a source and inspiration for his own books).
Winfield groups all ships by type, Lyon divides them into time periods, so tracing the history of one special vessel, it can involve some amount of hunting through the book. Really there are arguments for and against both approaches and no arrangement can be ideal.
This book is rather rare to get and often the book stores are asking for a inflated prices, but if you get one copy for a reasonable price, buy it.
Additional Information:
The mentioned books of Rif Winfields I will in future also show to you.
British Warships in the Age of Sail 1603-1714: Design, Construction, Careers and Fates
British Warships in the Age of Sail 1714-1792: Design, Construction, Careers and Fates
British Warships in the Age of Sail 1793-1817: Design, Construction, Careers and Fates
in the meantime also available but until now not in my library
British Warships in the Age of Sail 1817-1863: Design, Construction, Careers & Fates
French Warships in the Age of Sail 1626-1786
French Warships in the Age of Sail 1786-1861: Design, Construction, Careers and Fates