Administrator
Staff member
Administrator
Joined

Dec 25, 2017
Messages

22,194
Points

1,038

Location
The Ship of the Line: A History in Ship Models
by
Brian Lavery
Hardcover: 128 pages
Publisher: Seaforth Publishing (24 April 2017)
Language: English
Product Dimensions: 18.3 x 1.5 x 25.1 cm
actual price on amazon: 24 US$, but also available as e-book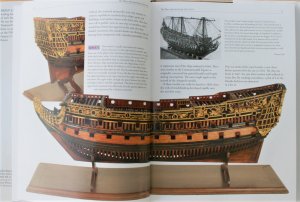 left side: HMS Loyal London
right side: Several Figurehead decorations of St, Michael 1669, a 60-gun ship of 1732, the HMS Bellona 1760, the HMS Victory 1765 and HMS Queen 1839
Synopsis:
The National Maritime Museum in Greenwich houses the largest collection of scale ship models in the world, many of which are official, contemporary artefacts made by the craftsmen of the navy or the shipbuilders themselves, and ranging from the mid seventeenth century to the present day. As such they represent a three-dimensional archive of unique importance and authority. Treated as historical evidence, they offer more detail than even the best plans, and demonstrate exactly what the ships looked like in a way that even the finest marine painter could not achieve. 

The Ship of the Line is the second of a new series that takes selections of the best models to tell the story of specific ship types – in this case, the evolution of the ship of the line, the capital ship of its day, and the epitome of British seapower during its heyday from 1650–1850. This period too coincided with the golden age of ship modelling.
Each volume depicts a wide range of models, all shown in full colour, including many close-up and detail views. These are captioned in depth, but many are also annotated to focus attention on interesting or unusual features, and the book weaves the pictures into an authoritative text, producing a unique form of technical history.

The series is of particular interest to ship modellers, but all those with an enthusiasm for the ship design and development in the sailing era will attracted to the in-depth analysis of these beautifully presented books.
Contents:
1. The Origins of the Ship of the Line (page 6 to 13)
2. The Wars with the Dutch 1652-1674 (page 14 to 27)
Decoration: The Figurehead – Rigging about 1670
3. French Wars in Europe 1674-1714 (page 28 to 45)
The Rating System
4. Stagnation 1714-1739 (page 46 to 67)
Block Models – Rigging about 1730 – Decoration: The Stern
5. World Wars 1739-1782 (page 68 to 91)
Dockyard Models – Guns and Carronades – Ship´s Boats
6. Revolutionary Wars (page 92 to 111)
Seppings´Braces – Rigging about 1815 – Round and Elliptical Sterns
7. The Long Peace (page 112 to 127)
Decoration: The Broadside
Further Reading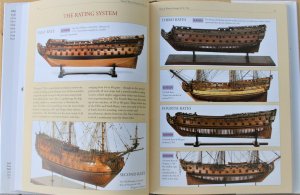 left side: models representing different Rates, like First Rate 100 gun ship HMS Royal William 1719, Second Rate HMS Marlborough 1706, Third rate HMS Chichester 1706 etc.
right side: a 70 gun Third Rate 1725 and a 50 gun ship 1725
Review:
In principle we can say here the same like on the other books of the series, from which I made already a detailed review.
For me a very good start into this subject with beautiful photos of beautiful models
In addition I found a very detailed quality review on the web-page of the
Naval Historical Foundation
http://www.navyhistory.org/2015/06/book-review-the-ship-of-the-line-a-history-in-ship-models/
The other reviews of the series you can find here (click on the name of book):
Wooden Warship Construction: A History in Ship Models by Brian Lavery
and
The Sailing Frigate: A History in Ship Models by Robert Gardiner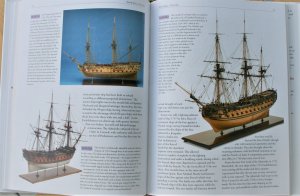 left side: HMS Victory 1737
right side: HMS Medway 1742, HMS Royal Oak 1741 and HMS Windor / HMS Deptford built by John Hancock of Deptford Dockyard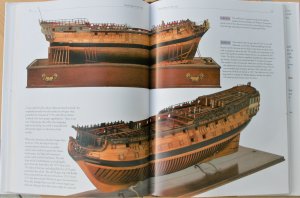 left side: Dockyard models from Plymouth, Woolwich, Deptford, Chatham and Sheerness
right side: HMS Bellona made by Thomas Burkett and William Thompson and 74 gun ship HMS Ajax 1767
More Look Inside photos you can find in the following post