Administrator
Staff member
Administrator
Joined

Dec 25, 2017
Messages

18,325
Points

938

Location
Book Review:
Waterline Dioramas – A Modelbuilder´s Artform
by Justin F. Camarata
Hardcover
232 pages in full color, 8 ½" x 11". Hardcover with dust jacket,
Publisher: Seawatch Books, 2009
Distributed by: Sea Watch Books, LLC, Florence, Oregon
https://www.seawatchbooks.com/ItemDisplay.php?sku=107002
In moment new for 55 US$
Synopsis:
Water is the natural element for a ship, and water is where Justin Camarata places his exquisite models. In a clear and easy way to follow, Justin takes you through the planning stages of a ship diorama's composition and placement of the model in the sea scene to be used. Succeeding chapters show the building of the hull, rigging and the making of sails that are accurate for the wind conditions to be portrayed. There are two highly detailed chapters on creating the sea conditions needed as well as sections on making figures for the model and final presentations.
There is a special color section showing the work of twelve masters of the waterline diorama. Works by McNarry, Hitchcock, Ronnberg , McCaffery, Reed and others are shown.
This book is recommended for the beginner to the pro.

232 pages in full color, 8 ½" x 11". Hardcover with dust jacket, hundreds of full color illustrations and drawings. Special photographic section featuring the work of current diorama masters.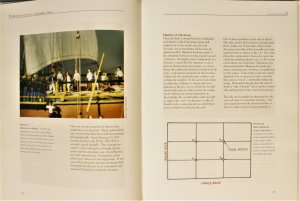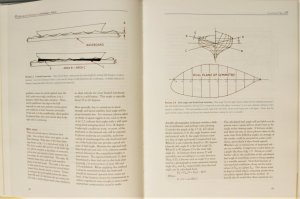 left side: Mutiny on the Bounty, rules of thirds for image composition
right side: Heel angle and heeled load waterline
Contents:
Acknowledgement, Preface, Introduction
Chapter 1 - Conception and Planning (page 23 to 36)
Chapter 2 - Hulls (page 37 to 50)
Chapter 3 - Rigging (page 51 to 68)
Chapter 4 - Sails (page 69 to 90)
Chapter 5 - Water, the Real Thing (page 91 to 116)
Chapter 6 - Water, the Model (page 117 to 146)
Chapter 7 - Figures (page 147 to 166)
Chapter 8 - Presentation (page 167 to 186)
Builder´s Portfolio (page 187 to 228)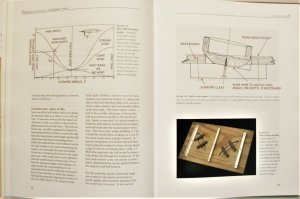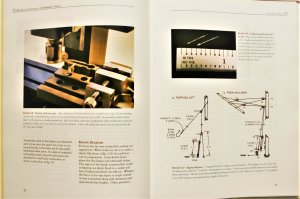 left side: heel angle from photographs, hull to water supports, hull to water assembly
right side: Clearing small jaws gap, completed small scale turnbuckles, rigging diagrams

Review:

This book is not showing how to built a static model, the main focus in Camameratas book is to show how to present the ship model in its element, water and sea, and how the wind will effect the sails and waves.

Although this book discusses hull fabrication, rigging and sails, it is not intended to be a model ship building manual. These topics are presented in a clear concise manner, with an eye towards incorporating them into realistic dioramas. It is possible that you will find that many hints and tips can be incorporated into your own modeling procedures whether you are a miniaturist or prefer larger scales. This is especially true concerning his technique for making sails. Various options are discussed .......... Without a doubt, what sets this book apart from other works on waterline dioramas is Camarata's thorough discussion of water. Twenty-five percent of the book is devoted to arguably the most important aspect of this type of this type of modeling. The first of two chapters is appropriately titled "Water: The Real Thing", and reflects the authors aeronautical engineering background as he describes how hull waves, wave patterns, and the interaction between the sea and a ship's hull can be mathematically determined. The author feels that understanding how full scale water behaves can't help but make for a more convincing diorama, and he proceeds to demonstrate it in the next chapter. After reviewing various materials used by other successful dioramacists, Camarata discusses the importance of planning and visualization, and how principles practiced by artists and sculptors can be applied. ........The final chapters are devoted to the creating of figures, and presentation.

.... The big inspiration you can find at the last 35 pages where the beautiful works of some other modelers are shown, unfortunately the quality of the my Look Inside Photos are not so good, but you can trust me here: Awesome models presented in beautiful photographs.....

Even if one is not 'into' making dioramas, this is an inspirational volume to look through from time to time.

Beautifully photographed and described ->

Highly recommended

and not only for the Diorama or miniature modeler

Parts taken by B. Filipowski see also attached pdf of Midwestmodelshipwrights
left side: Sheet stiffening with rod, tackle jig
right side: Fore and aft sail camber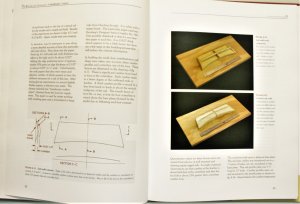 left side: sail painting jig, shading diagram, sail mounting methods
right side: sail mould contours, sail mould wood components, finished sail mould
left side: Kelvin wave patterns, effect of vessel speed on divergent wave angle
right side: Wave profiles
left side: Bow wave foam, Foam dissipation
right side: Chapter "Water: The Model"
left side: Baseboard wave layout
right side: papered areas
More look inside photos you can find in the following post
Last edited: