Joined

May 12, 2017
Messages

83
Points

103
Location
Somewhere near Annapolis Maryland in 1871; this is the earliest known photograph of the First Class Sloop of War
Constellation
. She had just received a major refit in 71. A 100pd Parrot rifle and an 11" Dahlgren were placed on her gun deck with corresponding enlarged gunports. Her 8" shell guns were replaced with 9" Dahlgrens. All for training purposes. A bridge-deck was installed just forward of the mizzen, over the wheel. As this command post was built and looked like a bridge, the name stuck and to this day the command post of a ship is called the bridge, though it no longer looks like one.
In 1888 she was refit again. According to her sail plan drawing, the rake in her masts was reduced. From here on, her tops, caps, trestle-trees, etc would all appear to nose-down as they were still fitted to the old rake. Here she is at Portsmouth New Hampshire where the refit took place.
She was re-stationed at New Port Rhode Island in the 1890's. Her we see she had a normal rectangular main hatch, 8" deck planking, and a couple of her fold-down bulwarks are still in place back aft.
By 1914 she was officially USS Constellation (USS wasn't officially used until 1901). The idea that she was the old frigate rebuilt had also taken hold, and she was gussied up for the anniversary of the bombardment of Fort McHenry. Here she is around that time, in Philly I think. You can see she has narrower deck planking now, almost yacht-like. Her bridge is gone, but the companionways over either bulwark remain as access to the boats. Also note the new shape of her main hatch.
Period guns were barrowed from the
Constitution
for the occasion. So it could be said she was armed with 24 pounders for a short time.
In this profile you can see how the tops and mast fittings lean forward because the mast no longer rake back. The next shot shows how thin the tops were, possible because they are sandwiched between the "sleepers" on top and the cross-trees and trestle-trees below. A lot of interesting rigging details are visible, but as she's not rigged to sail, some things are missing.
Unlike this image where she was sailing...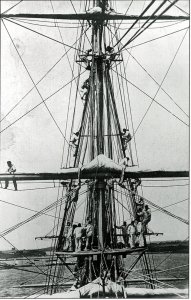 In New York, 1901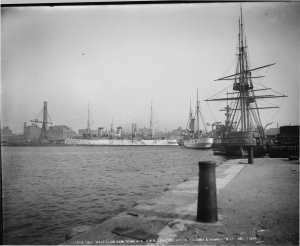 In dry-dock, 1904. Lots of interesting details; upper masts lowered through the main-yard trusses, folding-bulwarks forward, and other stuff.
At the bulkhead with
Olympia
I have more, but I need to resize them for the forum to take them.
Last edited: