Administrator
Staff member
Administrator
Joined

Dec 25, 2017
Messages

21,832
Points

1,038

Location
Book Review:
Das Erbe der Serenissima
Rekonstruktion und Restaurierung eines venezianischen Linienschiffsmodells von 1794
by Dr. Karl Klaus Körner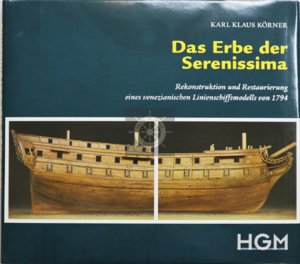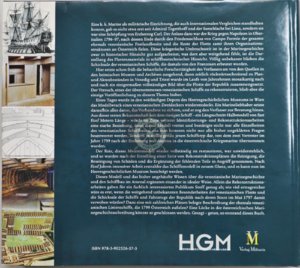 translated title:
The legacy of the Serenissima
Reconstruction and restoration of a venetian Ship of the Line model of 1794
available directly from the publisher:
Verlag Militaria; Auflage: 1., (1. November 2009)
Price: € 59,90
https://www.militaria.at/Book.aspx?book=513216&Language=de
the model before - forgotten in the basement of the museum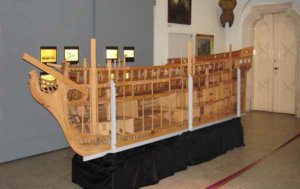 the model now after the restoration by Dr. Körner
excerpt from the drawings
SYNOPSIS:
A k. k. navy as a military facility that could also withstand international comparisons had not only existed since Admiral Tegetthoff and the naval battle near Lissa, but was a creation of Archduke Carl. The reason for this was the war against Napoleon in Northern Italy in 1796–97, after the end of the peace agreement at Campo Formio the entire former Venetian mainland and the remnants of the fleet and their organizational structures fell to Austria. This warlike period of change has been worked up historically in naval history, but what is largely missing there is the representation of the naval material in terms of shipbuilding. The fate of the Venetian ships, which were then captured by the French, remained completely unknown.
This is where the author's persistent research began at an early stage: starting from the sources in the local museums and archives, then stepping backwards in time to the plans and files in Venice and Trieste, over the decades, a somewhat complete picture of the fleet gradually became mosaic-like composed of the republic. The attempt to reconstruct one of the acquired Venetian ships remained the only publication on this topic to date.
One day, the model wreck of a Venetian two-decker was rediscovered in the extensive depots of the Museum of Military History in Vienna. A marine lover then went out of his way to secure what was available and consulted the author. From this first acquaintance with the huge ship - a longitudinal half-model of almost five meters in length - became a strong relationship in the course of further identification and reconstruction work, because this model not only betrayed and confirmed all the details of Venetian shipbuilding, it not only made it possible all previously unanswered questions were answered, but it represented exactly the type of ship from which two representatives were taken over in the Austrian Navy in 1799 after the conquest of Ancona.
The excitement to fully restore this master model was irresistible, and after a series of reconstruction plans were made, cleaning, repairing damage, and adding missing parts was tackled. After five years of intensive work, the ship model shone in new splendor, and it can now be viewed in the Museum of Military History.
This model and the previously accumulated knowledge of Venetian naval history and shipbuilding in the arsenal complemented each other ideally. The reconstruction work alone provided enough material for a professionally interested audience; How much more profitable would it be if the largely unknown peculiarities of the Venetian fleet and the fate of the ships and vehicles of the Republic after their overthrow in May 1797 were woven into it? A description of the former Venetian liner ships, which fell to Austria in 1799, accompanied by numerous plans? This could fill a gap in Austrian naval history. No sooner said than done, this is how this book was created.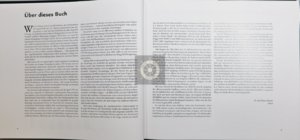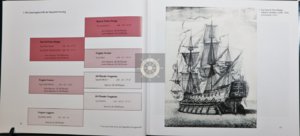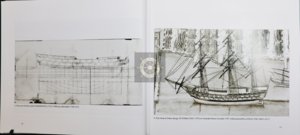 CONTENT:
Illustrated book with slipcase + 25 large-format shipbuilding plans; Hardcover tape with dust jacket; Format: 29.5 x 26.5 cm
foreword
about this book
1 The cross sailing ships of the Republic of Venice
Development of the Venetian fleet and types of ships since the introduction of high-side ships in 1660 until the fall of the Republic in May 1797
2 Architectura Navalis Veneziana
Study on the special features of the construction of Venetian ships in the second half of the 18th century
2.1 Keel and Steven
2.2 The frame systems
2.3 The structure of the bow and stern
2.4 The inner structure of the fuselage
2.5 The decks
2.6 The outer structure of the fuselage
2.7 Galion and gallery
3 The model
Reconstruction and restoration of a badly damaged semi-model of a Venetian two-decker
3.1 The reconstruction
3.2 The dismantling
3.3 The structure
4 The legacy of the "Serenissima"
The fate of all Venetian ships and vehicles after the end of the Republic in 1797
4.1 Historical overview
4.2 The ships and vehicles in detail
5 The first battleships in the k. k. marine
Reconstruction of the three former Venetian battleships captured by the Austrians in Ancona in 1799
5.1 The double decker - Fregate Grosse BEYRAND and STENGEL
5.2 The 74-gun battleship LAHARPE
5.3 The armament
5.4 The rigging
6 Appendix
6.1 Notes and additions
6.2 Explanation of technical terms in shipbuilding
6.3 List of historical place names and their current equivalents
6.4 List of sources and references
6.5 List of images and picture credits
6.6 plans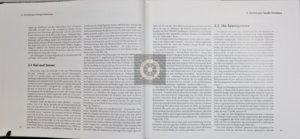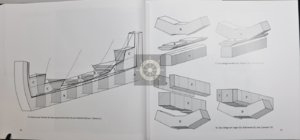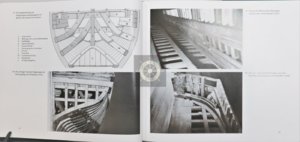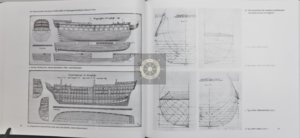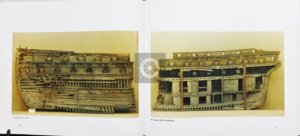 some more Look Inside views and an overview of the attached drawings you can find in the following post
german Reviews:
http://www.modellmarine.de/index.ph...us-koerner-das-erbe-der-serenissima&catid=186
http://www.sehepunkte.de/2010/09/17644.html
http://www.veniceboats.com/das-erbe-der-serenissima.htm
in german language:
Synopsis:
Eine k. k. Marine als militärische Einrichtung, die auch internationalen Vergleichen standhalten konnte, gab es nicht etwa erst seit Admiral Tegetthoff und der Seeschlacht bei Lissa, sondern sie war eine Schöpfung von Erzherzog Carl. Der Anlass dazu war der Krieg gegen Napoleon in Oberitalien 1796–97, nach dessen Ende durch den Friedensschluss von Campo Formio der gesamte ehemals venezianische Festlandbesitz und die Reste der Flotte samt ihren Organisationsstrukturen an Österreich fielen. Diese kriegerische Umbruchszeit ist in der Marinegeschichte zwar in historischer Hinsicht gut aufgearbeitet, was dort aber weitgehend fehlt, ist die Darstellung des Flottenmaterials in schiffbautechnischer Hinsicht. Völlig unbekannt blieben die Schicksale der venezianischen Schiffe, die damals von den Franzosen erbeutet wurden.

Hier setzte schon früh die beharrliche Forschertätigkeit des Verfassers an: von den Quellen in den heimischen Museen und Archiven ausgehend, dann zeitlich rückwärtsschreitend zu Plan- und Aktenbeständen in Venedig und Triest wurde im Laufe von Jahrzehnten mosaikartig nach und nach ein einigermaßen vollständiges Bild über die Flotte der Republik zusammengesetzt. Der Versuch, eines der übernommenen venezianischen Schiffe zu rekonstruieren, blieb aber die einzige Veröffentlichung zu diesem Thema bisher.

Eines Tages wurde in den weitläufigen Depots des Heeresgeschichtlichen Museums in Wien das Modellwrack eines venezianischen Zweideckers wiederentdeckt. Ein Marineliebhaber setzte daraufhin alles daran, das Vorhandene zu sichern, und er zog den Verfasser zur Beratung hinzu. Aus dieser ersten Bekanntschaft mit dem riesigen Schiff – ein Längsschnitt-Halbmodell von fast fünf Metern Länge – wurde im Zuge weiterer Identifizierungs- und Rekonstruktionsarbeiten eine starke Beziehung, denn dieses Modell verriet und bestätigte nicht nur alle Einzelheiten des venezianischen Schiffbaues, aus ihm konnten nicht nur alle bisher ungeklärten Fragen beantwortet werden, sondern es stellte genau jenen Schiffstyp dar, von dem zwei Vertreter im Jahre 1799 nach der Eroberung von Ancona in die österreichische Kriegsmarine übernommen wurden.

Der Reiz, dieses Meistermodell wieder vollständig zu restaurieren, war unwiderstehlich, und so wurden nach der Erstellung einer Serie von Rekonstruktionsplänen die Reinigung, die Beseitigung von Schäden und die Ergänzung der fehlenden Teile in Angriff genommen. Nach fünf Jahren intensiver Arbeit erstrahlte das Schiffsmodell in neuem Glanz, und es kann nun im Heeresgeschichtlichen Museum besichtigt werden.

Dieses Modell und das bisher angehäufte Wissen über die venezianische Marinegeschichte und den Schiffbau im Arsenal ergänzten einander in idealer Weise. Allein die Rekonstruktionsarbeiten gaben für ein fachlich interessiertes Publikum Stoff genug ab; wie viel ertragreicher wäre es erst, wenn die weitgehend unbekannten Besonderheiten der venezianischen Flotte und die Schicksale der Schiffe und Fahrzeuge der Republik nach deren Sturz im Mai 1797 damit verwoben würden? Dazu eine mit zahlreichen Plänen belegte Beschreibung der ehemals venezianischen Linienschiffe, die 1799 Österreich zufielen? Eine Lücke in der österreichischen Marinegeschichtsschreibung könnte so geschlossen werden. Gesagt – getan, so entstand dieses Buch.
Content:
Vorwort
Über dieses Buch
1 Die Quersegelschiffe der Republik Venedig
Entwicklung der venezianischen Flotte und der Schiffstypen seit der Einfuhrung von Hochbordschiffen im Jahre 1660 bis zum Sturz der Republik im Mai 1797
2 Architectura Navalis Veneziana
Studie Über die Besonderheiten im Bau venezianischer Schiffe in der zweiten Halfte des 18. Jahrhunderts
2.1 Kiel und Steven
2.2 Die Spantsysteme
2.3 Der Aufbau von Bug und Heck
2.4 Der innere Aufbau des Rumpfes
2.5 Die Decks
2.6 Der äußere Aufbau des Rumpfes
2.7 Galion und Galerie
3 Das Modell
Rekonstruktion und Restaurierung eines stark beschädigten Halbmodells eines venezianischen Zweideckers
3.1 Die Rekonstruktion
3.2 Der Abbau
3.3 Der Aufbau
4 Das Erbe der "Serenissima"
Die Schicksale aller venezianischen Schiffe und Fahrzeuge nach dem Ende der Republik im Jahre 1797
4.1 Geschichtlicher Oberblick
4.2 Die Schiffe und Fahrzeuge im Einzelnen
5 Die ersten Linienschiffe in der k. k. Marine
Rekonstruktion der drei von den Osterreichern im Jahre 1799 in Ancona erbeuteten ehemals venezianischen Linienschiffe
5.1 Die Zweidecker - Fregate Grosse BEYRAND und STENGEL
5.2 Das 74-Kanonen-Linienschiff LAHARPE
5.3 Die Zurüstung
5.4 Die Takelung
6 Anhang
6.1 Anmerkungen und Ergänzungen
6.2 Erläuterung schiffbautechnischer Fachbegriffe
6.3 Verzeichnis der historischen Ortsnamen und ihre gegenwärtigen Entsprechungen
6.4 Quellen- und Literaturverzeichnis
6.5 Verzeichnis der Abbildungen and Bildnachweis
6.6 Pläne