Staff member
Forum Moderator
Joined

Sep 10, 2017
Messages

2,464
Points

628

Location
Last weekend during a nice weekend trip to the beach I visited also the Dutch Navy museum in Den Helder.
On the old navy yard there is a 17th century shipwreck of a Pinas/jacht which was in this case a 26 mtr merchant trader. As a reference this is approximately what you are looking at or at least what was left of it.
The Pinas was found late 40s when reclaming land and excavated during the 60s. Now it is in Den Helder in a large glass paviljon and can be visited for free.
Due to the glass it is however difficult to take pictures.
For the people speaking Dutch here is the history.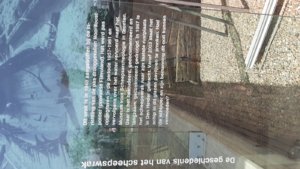 An overview of the hull, stern on the right.
The stern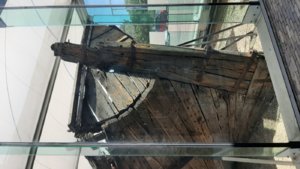 Sb side stern with draft markings. In our models we want to have the planks exactly fitted accoring rules of not ending in a tip etc etc etc. In reality they just fitted what the had, as we say in Dutch: zoals het uit de bijl valt, freely translated fit it in the most econimical way. Planks are ending in a tip, even the stealers.
A 17th century hull plank repair. It seems with building our kits we are sometimes to critical compared to reality.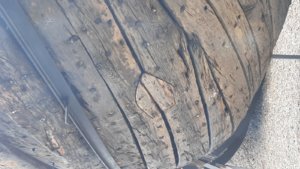 Plank joints in the ships side. Never create joints close to each other, yeah right
.
We do have plenty of supply now but it seems they treated the use of there materials to use every cm of it.
The inside bow construction. Note the inside planking is not oak but pine, lighter and much cheaper for a merchant ship two important topics.
However the structural parts supporting beams and keel are oak.
Plank fitting on the stern.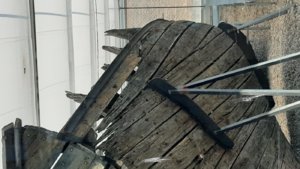 These are for sure things I will take into consideration for my next build a Dutch Fluytschip.