Hi
After 3 days non stopping working on the Red Dragon i decided to stop it a few days and start a new project. No... i will not leave the Red Dragon as it is. It will be finished !!!
This kit was a present of my oldest son a few months ago. He got it from ZHL MODELS.
On this link you will find an excellent review of the kit with many links to what is known about this submarine.
This will be a kit review of the first wooden submarine for the Russian Navy from 1721
You will see that at the stage I am now, it will be nice to add some interior features. But I can only find a picture at this site:
Entertainment photo blog with Informations, Facts, Fun, Home Ideas, Creative Designs, Art, Painting, Cozy Ideas, Cool Stuff, etc
pixgrove.blogspot.com
If anyone have the skills to find more interior images It will be greatly appreciate !!!
If I do some interior, I do not like the idea of adding LEDs. Just I do not like to see a wire going to a battery power and a switch.
Another option will be to do it as it is. And do another one cut by half. Showing all the inside. For that I will need more pictures. I can risk another kit as the price is something like $70 shipped to USA from China.
Ok, let's show what I did today.
It all start here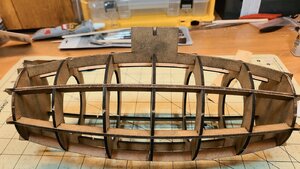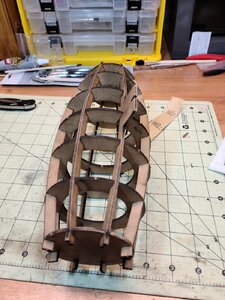 They snap very tight !!! I broke a couple that I glued at the end. It finish being a strong structure. My mistake was to start adding them in oposite sides. Just add one after the other, going all around.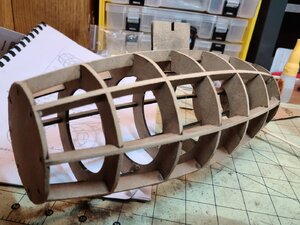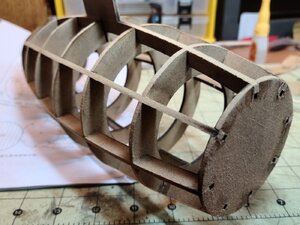 Did a good sanding to have all well shaped so "planks" will fit all the way. Like when we do the ship hull.
I cut the extra "wood extensions", sanded and glued the "artificial planking". It was already done and I highlighted the planks with pencil.
I had to use all those clamps because after placing the pice of wood over the wood-glue it started to bent. It was alive
. It is so thin that needed to be kept in place.
That is all for now.
Cheers
Daniel
Last edited: