Joined

May 15, 2020
Messages

34
Points

68

Location
Very beautiful build!
Since the thread is not made by the builder himself I take the liberty to ask a question about this part: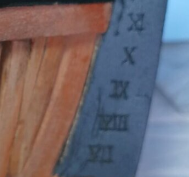 It is in no way critiscism but only so I know when I - hopefully - some day comes that far with Alert myself. I have searched the net but did not find the answer. Does anybody know exactly when the change in roman numerals happened so that 9 was no longer being written Vllll but lX (subtracting l)? Or, if no exact time, was it before or after 1777?