Joined

Feb 18, 2019
Messages

622
Points

353
Location
T
his project is a "group project" but members can join anytime and of course work at their own pace.
The model will be built following the instructions provided through a construction manual / guide.
The project is really designed as a support group available to the members joining in.
F
rom joining the built, you may learn something or you may just have fun.
Continue reading for information, and if you need more, just ask away…
_____________________________________________________
O

ur models are often built to accurately represent a historically correct piece,
but in some cases we should allow ourselves some liberties by allowing our own
creativity to take over in some way: and small crafts, such as canoes are perfect for that.
S

omewhere, being creative is part of model building.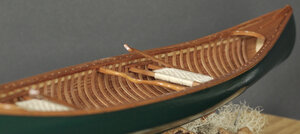 The traditional look

​

The construction of the canoe is based on a somewhat modified hull design using a detailed and illustrated 68-page step-by-step guide: including 100+ colour photos): but it does look like a canoe (as seen in the introduction image). You may build exactly what is presented, but you also have the option of letting your imagination take over at some point … really, the sky is the limit, and this canoe can become your own personal piece of art.

This built is a fairly "simple" project. It is a good first time experience in model building from wood, but is also a fun project for the more experienced builder. Even the scratch builder or someone who want to take a short break from their current build.

The guide includes some ideas / options to make it a much more involved build, needing some extra material for features such as simulating fastenings, etc.. material readily available from most hobby shops.

Please note that the basic canoe will take approximately 30 hours to build.
It can be built as a 19" or 17" model using the same patterns.
_________________________________________________________________________​

So here is what is proposed:

Laser-cut parts are not provided

for any parts; so some cutting will be required.

OPTION

1


The "semi-kit" version

For this option you will need (separately):

1)

The Step-by-step guide

68-page illustrated guide (pdf document download): CAN $ 19.95 (for SOS members).

Link to info page :

https://gkorent.wixsite.com/photography/sos-canoe-guide-page

You can contact me here or from the link to order your construction guide.

Along with the manual, you get full / unlimited support from the time you sign up for the project until your canoe is build.

Along with the Group Project page that will be created shortly, I have also started a Facebook group where you will be able to register as well, it may become handy at some point: as it is not limited to SOS members.

2)The lumber

- and you have 2 main alternatives officially offered.
Alternative A

You may purchase a lumber package provided by The Lumberyard :

https://www.dlumberyard.com/

in the US

This is essentially building as a "semi-kit"; the lumber is, for the most part, woodstrips and sheets / boards milled to specification.

This lumber package includes the following:

a)

The building base: poplar – some tracing required

b)

Sheets for the station molds: basswood – tracing and cutting required

c)

All the lumber (24" in length) milled to specification needed to build the canoe: strips and sheet for all the canoe parts

The canoe can be built in either

Red Cedar

or

Cherry

– your choice…

You may your order your lumber package

by emailing Eve at Mrs22wood@aol.com

at The lumberyard

Lumber cost

The cost for the wood package is as follows (

Tax and shipping not included

):

aa)

Single participant order: US $ 74.70

bb)

5 or more participants at a time -"grouped orders": US $ 60.00 per wood package

cc)

10 or more participants at a time - "grouped orders" US $ 50.00 per wood package

Alternative B

You may purchase a pre-milled lumber package made available by

@bibigon

(Sergey) from Russia. You may contact him directly from SOS private messaging.

Due to limitation related to Sergey's ability to ship lumber for the original canoe size, the vessel will be slightly shorter +- 17" (the shorter canoe is already an option available within the original construction guide).

This lumber package includes the following: a)

Building base material. (Made out of pine wood) - 20" in length

b)

Station mold material (3 mm plywood)

c) All milled Pear wood strips and sheet wood

necessary to build the canoe. - 20" in length

Lumber cost

The cost of the lumber package will be approximately

50 Euros including transaction fee (6% Paypal fee) and shipping to Europe - US and Canada add +- 5 Euros (Sergey will confirm shipping cost upon being contacted for your order). **

This price will include Shipping via regular mail so we do not know exactly what the delivery time will be.

Expedited shipping will be available at extra cost:

Sergey can provide information regarding shipping.





You may also purchase your lumber from other sources: your choice


______________________________________
​

OPTION 2
The scratch builder

All you need is the step-by-step guide (see above), which of course includes station mold patterns and the list of material needed for the construction. The lumber can then be milled and you are on your way. And you still get the unlimited support you need during your build.

____________________________________________________________________________________________________​

Thank you all for your attention and participation.

G

To give everyone an idea as to your canoe would look like, you can check this link:
Last edited: