Staff member
Moderator
Sponsor
Joined

Dec 1, 2016
Messages

3,052
Points

578

Hi Dave, Where will the dedicated library be, was very interested in the concept of the original postings on the NBM site, understand fully the amount of work you had to do with very little help, I still think it should be on a site MAYBE GETTING HELP FROM SOME ONE AS A RESEARCHER/ AND LIBRARAN for the NBM SITE, you and I have had discussions on this before to bad the people we had thought were going to do this deserted us, but some qualified people are still there if we ask, maybe some international member could step up and do this it would really help the site overall as well, maybe the works are not as well known internationally as it should be, PM ME FOIR MORE DISCUSSION DO NOT WANT TO HOG UP THIS THREAD. Don
ok lets just start a new topic rather than hog up another one
There is more information available out there than we can ever catalog and repurpose it into information model builders can use. I think the question is why bother? it takes a massive amount of work by very few people willing to devote the time and effort.
As the title suggest the vast majority is content with just building whatever comes in the box. Even scratch builders settle for quick answers.
I can understand this just by the time spent with the research of the frigate Mississippi its been a year now just searching for people who might have information.
planking a hull
there are original plank expansion drawings showing the correct way to plank a hull, a number of articles, build logs and tutorials on how it is done all over the web. Still time after time you see some very creative solutions to the problem, not correct but it solves the problem at hand and actually it looks ok.
hull framing has always been a big question of how it is done. The answers are out there if you bother to look.
builders will set frames apart with a wide space between them actually warship hulls were almost a solid wall of timber like this
or hulls were frames like this which is logical you only have to build 1/3 of the frames and just fill in between them with loose timbers

builders will use chocks to join timbers yes they were used in some British naval yards but that's about it frames commonly used lap scarfs or butt the ends together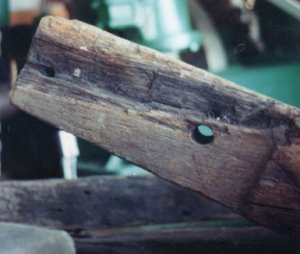 this information is in the archaeological research data
a lot of the drawings and information at hand can not be used by the average hobby builder because they do not understand it. A prime example of this is me I have 112 drawings for a steam engine I can draw it in CAD but I have no idea how it goes together or works bottom line I do not understand what I am looking at. Same with many hobby level model ship builders.
What happens over time is builders fill in the blanks with whatever then that becomes the standard or accepted truth.
Last edited: