Joined

Apr 14, 2020
Messages

51
Points

78
Location
This was one of my first models, completed around 2007. My intent was to depict the crowded conditions on the
Bounty's
launch. I used the launch plans and lines found in the
Bounty
volume of the "Anatomy of the Ship" series, hand carved two halves of the hull from basswood (I was a pretty unskilled modeler at this point but was a decent carver), and glued them together onto the midline stem, keel, and sternpost pieces. Ribs, stringers, gunwales, thwarts, masts, and sails were added to the assembled hull. The nineteen figures were made from polymer clay, sculpted to shape, individually fit to a specific spot on the launch, and baked to harden. As I made the figures one by one, it became harder and harder to find spots for them in the increasingly crowded boat, which made my point, I guess. The poses and activities of the crew figures were based on descriptions found in Bligh's journal of the 3600-mile open boat voyage.
Much to my surprise and wonder, images of this model have been requested for, and included in, two books about Bligh and the
Bounty
mutiny, and most recently images were included as part of a major exhibition about Bligh at the National Maritime Museum in Falmouth, Cornwall, England.
The dimensions of the completed model with its extended oars cried out for a non-traditional case, and I chose a polystyrene dome placed on a rotating, "lazy Susan" base. The model can be rotated for viewing from any angle. One of the photos below shows the model on its custom-built shelf in our den at home. The space below the shelf holds the books in which images of the model can be found and several other books about Bligh and the mutiny.
James
Maine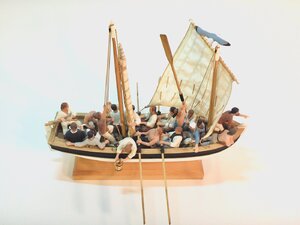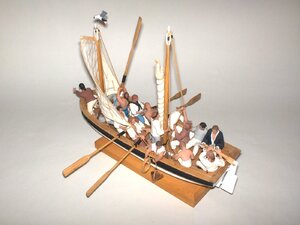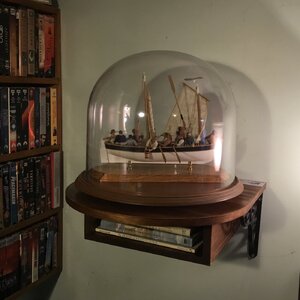 Last edited: