This forum looks like a good place to create a build log and to share progress and to learn and to share problems and solutions.
After a couple of kits, the second being HMAT Bounty which was significantly kit bashed, the scratch build bug bit and a 1:75 HMS Surprise model has been completed.
For a bit of a challenge I have decided to attempt a 1:75 scratch build of HMS Bellona, the complex decks and intricate carvings should keep me occupied for a while.
I have acquired the "Anatomy of the 74 Gun Ship Bellona" in both pdf and hard copy and internet searches have provided lots of images.
Drawings in the book have been scaled up to 1:75 to give a base for construction. The hull profiles have been fixed to 6mm marine ply to form a skeleton with a false keel and bulkheads.
A PC was used to transfer drawings to Word for Windows where they were scaled up to 1:75.
Hull profiles and the false keel were glued to 6mm marine ply to form the basic structure.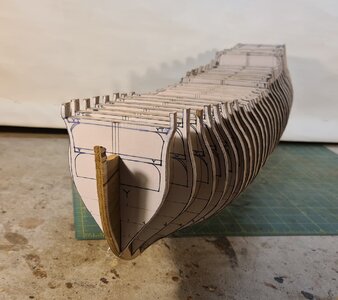 Work continues.
Cheers,
David.