Administrator
Staff member
Administrator
Joined

Dec 25, 2017
Messages

14,363
Points

938

Location
This thread is dedicated to the HMS Victory in her original appearance, so with time we should sum up here all information about the original version of the famous HMS Victory launched in 1765
In this post I want to share information about the
original figure-head
This is like we know the actual figurehead
The figurehead represented the character of the whole ship. A great amount of care and expense was given to its design and construction. The figurehead at launch was very elaborate. In 1803 it was found to be very rotten and replaced with a much simpler design. You can see a scale replica of the original in the Victory Gallery. The current figurehead is a modern replica of the one carried at Trafalgar. It was fitted in 1992, but removed in 2009 because of its poor condition. This demonstrates the challenge of caring for wooden structures left out in the wind and rain.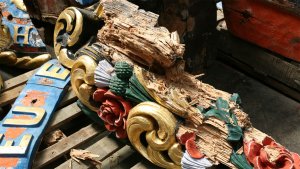 from 2009
A quarter-scale replica of the elaborate figurehead fitted to Victory when she was first launched. Port (left) side and Starboard (right).
In the National Maritime Museum is also a model in scale 1:24 of the Victory figurehead available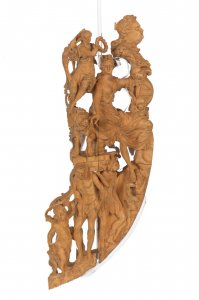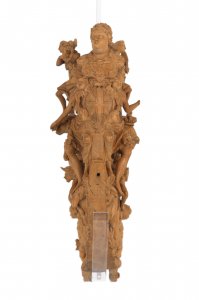 Scale approx. 1:24. Model of the original figurehead on HMS 'Victory' (1765), a first-rate 100-gun warship. It has been carved from several pieces of wood which have been glued together to form one figurehead. It is topped by a shoulder length bust intended to represent George III in armour, wearing a laurel-leaf crown though it does not resemble him either in the 1760s or later. ( It more closely resembles his uncle Prince William Augustus, Duke of Cumberland, who died in October 1765 aged 44). He wears a medallion on a ribbon with a St George cross for England, which may be a carver's simplification of the St George badge of the Garter mentioned in the original specification. Below is a shield with the Union flag surrounded by putti representing the four winds. Behind the bust and shield are two large female figures (Britannia to starboard and Victory to port) sitting on brickwork/castellated mounts, supported by figures representing the four continents. Behind the heads of these two figures are smaller, winged figures of Peace and Fame with a male lion beneath Fame, and a crowned and wreathed shield with a royal coat of arms beneath Peace. On the lower front edges, are two mythological/classical creatures: one appears to be a double-headed dragon, the other a female figure or creature. Both have parts missing. Two standing putti complete the lower part of the figurehead and are holding the horn of plenty and a globe. There are several parts missing from the model, such as hands, faces, feet, foliage and wings. The very detailed specification for the original figurehead survives and is printed in both the 'Mariner's Mirror' (Journal of the Society for Nautical Research, vol. 8, p. 281) and by L.G. Carr Laughton in 'Old Ship Figure-heads and Sterns' (London 1925), pp. 80-81. In June 1765 the Navy Board reviewed the original estimate for the figurehead and carved work and marked down the price paid for a clay model of the head from £20 to £15. That model is no longer known, or who made it. At that point the Chichley family had been at Chatham and Sheerness as carvers since 1713, with Richard and Elizabeth Chichley listed solely on the Sheerness books, 1764-70, and William Savage in partnership with Elizabeth there, 1770-77: he alone remained at Sheerness to 1783. There is a long tradition that Savage carved the figurehead of 'Victory', which he may have done in whole or part since certainly brought in to assist them on work for the ship in 1765-66 (see P.N. Thomas, 'British figurehead and ship carvers', 1995, p. 98). However, whether he made the clay model, or this copy - either from the model or the finished head, since the ship remained in reserve at Chatham until first fitted for sea in 1777 - are not known. The previous dating of this wooden model as a record item made by Savage when the head itself was replaced by a much simpler one (as today) in 'Victory's' great repair of 1800-03 now seems to be based on so-far unproved assumption. It is unlikely that Savage was then still active or alive to make it, and if of that date the maker is otherwise unknown. However, the possibility that it may be a record copy made at that time is perhaps supported by the Union flag of the central shield, which shows it apparently with the St Patrick saltire of Ireland, only added in 1801.
Read more at
http://collections.rmg.co.uk/collections/objects/68489.html#UC6PZWEOXfjQoUYF.99
Last edited: